Rainbow's Jane Tucker and Freddy Marks get married THIRTY years after they started dating!
And you've got to see Jane's outfit...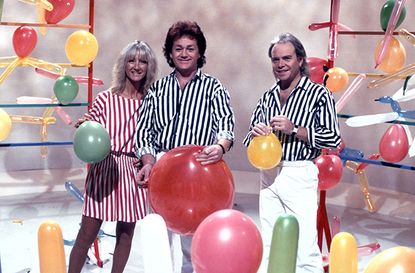 Having met over 30 years ago, Rainbow co-stars Jane Tucker and Freddy Marks finally made it official, by getting married in London this weekend!
The pair, who are both 66, celebrated their nuptials in London's exclusive Claridge's hotel in Mayfair over the bank holiday.
Keeping things colourful Jane and Mark shared a snap of themselves on social media dressed in fashionable threads, with a bit of a rainbow theme. Jane can be seen wearing a fitted long jacket over tailored trousers, holding a colourful bunch of flowers, while Mark opted for a multi-hued jacket - complete with flower print to compliment Jane's posy.
A fan page on Facebook, called Rainbow Forever, shared the couple's happy news along with the caption, 'We are happy to announce that after 30 years Jane Tucker and Freddy Marks have finally tied the knot congratulations to you both we wish you both all the love and happiness in the world.'
https://www.facebook.com/unoffcialrainbowtvshow/photos/a.10151454077890890.503160.19204115889/10154178916500890/?type=3&theater
Denise Welch was also quick to share the news with fans, and we have a sneaking suspicion she may have been a fan of the show. The daytime TV host shared a picture of the newly-weds along with the caption, 'OMG!! Jane and Freddy from Rod, Jane and Freddie from Rainbow got married today!!!!' [twitter]
and Freddy appeared together in the singing trio called Rod, Jane and Freddy who appeared on the ITV children's programme Rainbow. There were so popular in fact, that they even got their own spin-off show.
Before the trio worked together Jane was actually married to the third member of their group, Rod. However, they divorced in 1979, before Freddy joined them, and the former couple remained good friends afterwards. It wasn't until five years later that Jane and Freddy found love, and started dating.
Rod, Jane and Freddy have continued to be friendly as a group and have performed together at various events over the years.