Actor Jeff Goldblum's wife Emilie Livingston reveals they went to a therapist before deciding to get married
Emilie Livingston made the confession on her Instagram alongside a sweet picture of the couple.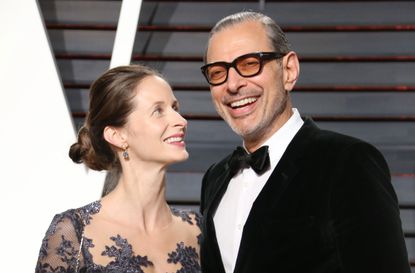 Jeff Goldblum and Emilie Livingston wanted to be certain their relationship was going to last long-term before they married and consulted a professional to give them advice.
The Jurassic Park actor and his now wife didn't want to leap into the commitment of marriage before being certain it was the right decision for them both.
Emilie posted a sweet picture of the couple on her Instagram and made the confession in the caption. The Canadian dancer and gymnast explained: 'Loved and appreciated! @jeffgoldblum always makes me feel loved - from the first day we met! At first I wondered if this feeling could be true because I hadn't experienced such innocent, passionate, tender, honest love before so quickly.
'Some people like to play games and play hard to get but we were just honest and aware from day one and took our relationship day by day until I had to express my feelings of wanting a family with HIM and to share the rest of my life with his beautiful soul!'
Emilie admits that her feelings kind of scared her and she felt a sense of vulnerability by feeling such an intense love for Jeff.
She said: 'That was a scary day, opening myself up completely, knowing he might not want kids or to marry again. And we just kept talking about it together and with our therapist until we decided that it was the right thing to do!'
Emilie and Jeff have now been happily married for almost four years and have two children together. She urged her followers to trust their instincts and to not be afraid to ask for advice if you feel like you need it.
Finishing the post she said: 'Ladies stay true to yourself, have fun but when it stops being fun be honest with yourself and your mate and be open to discussions that may be uncomfortable at first but worth releasing in a calm and safe environment!!! I love this man with ALL of my heart! ♥ Thank you universe 🙏🏻'.
Have you ever, or would you ever consult a therapist or professional before taking a big step in your relationship like marriage or kids? We'd love to hear your experiences so head over to our Facebook page to join the conversation!
Jessica currently works as a Senior Food Writer at Future. She writes food and drink-related news stories and features, curates product pages, tests, and reviews equipment, and also develops recipes that she styles on food shoots. An enthusiastic, self-taught cook Jess adores eating out and sharing great food and drink with friends and family. She has completed the Level 1 Associate course at the Academy of Cheese and is continually building on her knowledge of beers, wines, and spirits.