'Partner's a horrible word' Judi Dench on why her 'chap' won't be proposing any time soon
Dame Judi Dench shares rare insight into her romance with David Mills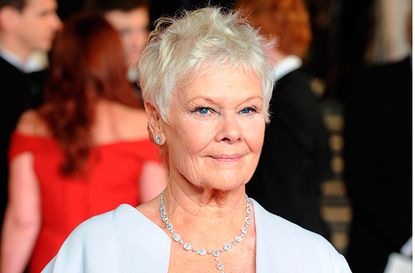 Oscar-winning actress and household name Dame Judi Dench has said that her 'chap' of seven years, David, will never propose to her as they are now just too old for marriage.
The 82-year old star met her conservationist beau when he asked her to open the new badger enclosure at his Surrey zoo in 2015.
Speaking to Good Housekeeping she said: 'He's not going to propose. No, no, no, no, no! Let's all just pull ourselves together and be our age!...'
Judi posing with her partner David picking up his MBE for services to Wildlife Conservation at Buckingham Palace
Dame Judi, who has enjoyed a glittering career on stage and screen spanning 60 years, was previously married to the actor Michael Williams, her co-star in the sitcom A Fine Romance, for 30 years.
After losing him to lung cancer in 2001, the actress did not think 'for a second' she would meet someone again.
The star spoke warmly about her romance with 74-year old David, a former dairy farmer and founder of the British Wildlife Centre.
'I have a jolly nice friend now. I don't know what the word is because I don't like the word partner.'
'Partner is something to do with dancing. Partner - horrible word. Friend? No. Boyfriend? No. Chap? Will chap do?'
She went on to reminisce: 'One hot night during the summer, we swam and then had a glass of champagne in the garden and I said, this is so fantastic!
'But perhaps if I was a romantic, I'd have been cool and calm about it. I get a bit over excited about things. I love having a good laugh... A sense of humour is the most attractive thing of all. It's essential.'
In 2015 she met David and talked about how 'wonderful' it was to be in love again, gushing about being in 'that state when you're glad to see somebody and they make you laugh and you just like being with them.'