Absolutely fabulous news! Julia Sawalha reveals she's dating 'toy boy' Luke Hollingworth
He's 17 years her junior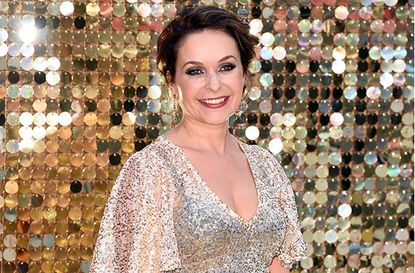 Julia Sawalha has a new man! And quite a young one too...
The 47-year-old actress, best known for playing the sensible, no-nonsense Saffron Monsoon in Absolutely Fabulous, revealed that she is now dating a man 17 years her junior.
The new couple made their red carpet debut at the Absolutely Fabulous: The Movie premiere on Wednesday evening, and they looked completely loved up.
Julia opened up about her relationship with 30-year-old sound engineer Luke Hollingworth on This Morning, admitting she 'didn't see it coming.'
She told Philip Schofield and Holly Willoughby: 'The sound guy, yes. I didn't see it coming and we were just great friends and it just went from there, which is great.'
While on the show, Julia even revealed to once having a crush on presenter Philip. She told him: 'I think you're rocking the silver fox look really well.'
Although Julia admitted that the age gap between her and Luke did take some getting used too, she now loves her life with her new man. She told the Mirror: 'The age gap took a while to get my head around but he's so emotionally mature he helps me be more relaxed. He's younger than me but he's an old soul.'
'We have the same of humour. We laugh all day and he's the kindest and most loving partner I would ever wish for. I've always dated men my age or significantly older and none of them are a patch on Luke.' Before starting a new relationship with her new toy-boy, Julia was single for seven years and said she was looking for someone to 'fill the void.'
Julia reprises her role as Saffron in Absolutely Fabulous: The Movie and said the decision to make the film was encouraged by co-star Joanna Lumley who said they had to 'do it before we die'. We can't wait to see it!
Charlotte Whistlecroft is a former Family writer at GoodTo. She obtained a BA in Theology and Theological Studies at Durham University, going on to study a masters at City University London in 2016. Since leaving GoodTo she has worked as a Social Video Researcher at Mail Online and is now Assistant Producer at BBC Sport.