Mum writes heartfelt open letter to 'the other woman' after receiving an email from her husband's mistress
How would you deal with an email from a woman claiming to be in an affair with your partner?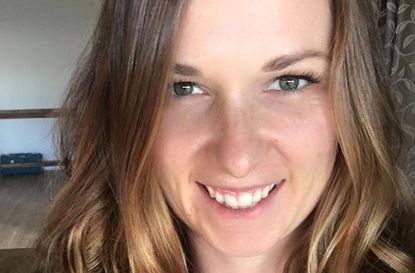 Can you imagine opening an email mysteriously titled 'Your husband', only to find a painful letter from his mistress describing all the details of their affair?
It sounds like a nightmare, but that's exactly what happened to Carlie Maree, an Australian mum and life coach. After being with her husband for 10 years, his affair with another woman was discovered just days before their daughter's second birthday.
Exactly one year later, Carlie bravely published her reply to the woman in an open letter on Mamamia (opens in new tab), describing the damaging effects the affair had on her marriage and family.
Carlie points out the result of the woman's actions, writing 'A year ago today you hit send on an email that had a monumental effect on several people's lives. I often wonder what was going through your mind at that moment, how much of it was revenge against a man who broke your heart and how much of it was you trying to do the right thing for his wife.
https://www.facebook.com/carliemareecoaching/photos/a.830739033643236.1073741828.819697251414081/1081622468554890/?type=3&theater
'The level of detail that you went into, felt like it had been curated to inflict pain. You knew what a wife would need to hear to get her to the point of no return in her marriage and you delivered it, blow by blow.'
Carlie's lifestyle and parenting blog means that most of her personal life can be read by whoever online, leading her to think about just how much the mistress could know about her and her relationship, and what made her send that 'cryptically entitled' email.
'"Your husband". Yes, that's what he was, and technically still is at this point, my husband. It's so bizarre for me to think that this man I know so intimately had this significant other person in his life that I didn't know about.'
https://www.facebook.com/carliemareecoaching/photos/a.830739033643236.1073741828.819697251414081/1177114702338999/?type=3&theater
The mum details how she had no idea about the affair - her and her husband seemed 'rock solid'. With a young baby and a husband travelling for work, she needed him to 'hang in there' for her. 'He would have, I think, if you had not come along at that moment.'
Although Carlie and her family suffered through such heartache, she has little anger towards the woman. Sticking to her mantra of 'everything happens for a reason', the mum believes the experience created 'lessons' for all of them. She can even imagine what it was like for the other woman.
'One night a good looking guy comes into your bar for a drink. He can be funny and charming, my husband. I can imagine how you would have fallen for him. He would have told you about how hard it is with a baby at home, how he wasn't getting much attention.
'All you had to do was listen to him, give him what he said I wasn't, and soon enough he was yours. I get it, I fell in love with him from the other side of a bar too.'
Carlie describes the difficulties of parenting for both sides, and how it affected her marriage. 'Sometimes I wonder how much of it was him trying to find what he had lost in me. I was once a cute blonde in a short skirt behind the bar at his favourite pub. Ten years later I was the mum in the yoga pants with the silver regrowth and bags under her eyes from being up all night with a sick baby.
'He was supposed to love that version of me too. And he did, but he missed the girl who had nothing but time to dote on him. That's what you gave him.'
Carlie thinks the woman expected her husband to leave his family for her, but the opposite happened. Once their daughter got older and parenting became easier 'he began to see the woman he had fallen in love with all those years ago.'
'I bet that hurt for you. You had a choice. You could let him move on and try to make his marriage work, or you could take it all from him. You chose option two.'
The woman's 'words and images etched' themselves into Carlie's mind, leading to a marriage separation. However, they are now 'closer than ever', having learned a lot about each other. Their love and respect towards each other and their daughter is still strong. 'No one will ever break that.'
Writing the letter has been like therapy for Carlie, as she told the Mail Online (opens in new tab). 'I wrote it for me, not for her. Writing has been such a massive part of my healing. I don't wish her any ill-will.
'She did a really, really awful thing, but ultimately she's just a person who fell in love with someone who was totally wrong for them. And who hasn't done that?'
Trusted, informative, and empathetic – GoodTo is the ultimate online destination for mums. Established in 2007, our 15-year-strong archive of content includes more than 18,000 articles, 1,500 how-to videos, and 7,000 recipes.