Hollyoaks' Nadine Mulkerrin and Rory Douglas-Speed are engaged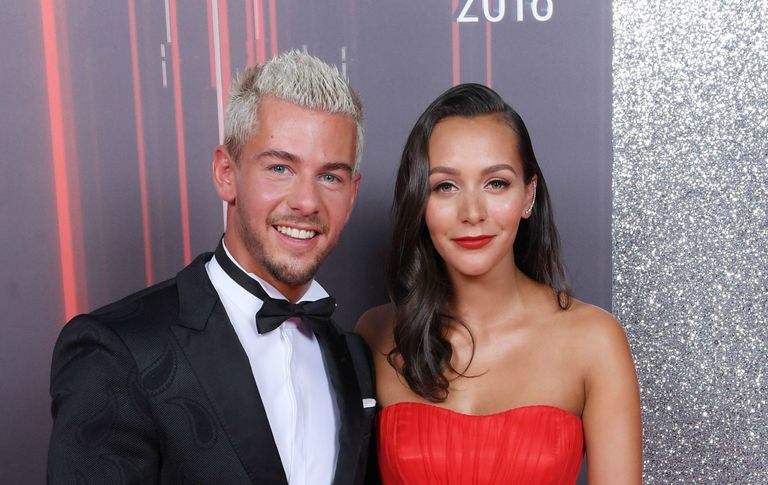 Hollyoaks real-life couple, Nadine Mulkerrin and Rory Douglas-Speed have confirmed that they are engaged.

The pair have announced their engagement just two weeks after their characters, Cleo McQueen and Joel Dexter, tied the knot on screen.
Spoiler alert! Sadly, the on-screen romance fell apart, but off-screen the pair have shared their incredible news with fans.
The loved-up couple took to Instagram to announce that they are set to marry.
The 25-year-old brunette shared a collection of candid black and white photo booth images of her and beau, Rory with her 294k followers.
The actress captioned it simple with 'yes'.
Similarly, Rory, 26, posted a sweet snap of his new fiancée showing of her engagement ring, captured with; 'she said yes!'
Before posting a clip of Nadine punching and kicking the air in joy.
And, fans in their masses rushed to shower the pair with congratulations.
'Love is in the air', wrote one fan. While another could hardly contain their excitement with: 'THE BEST NEWS EVERRRRR! XXX'
'My favourite couple of all time, you are both adorable! Congratulations!' commented another fan.
While another eagle-eyed fan noted: 'They are amazing couple they must of found it hard playing the part in Hollyoaks when broke up'
The newly-engaged couple confirmed their off-screen romance in 2017.
The soap couple's engagement news comes just two months after they pranked their parents, pretending they had got married after filming their characters' big day.
The Sun reported that Rory said: 'It's been so strange filming a wedding as we are together. 'Even back when Joel and Cleo [soap characters] got engaged I was so nervous, I went bright red. I was terrified - genuinely I was not acting in those scenes!
'… Nadine and I have a laugh about it.
'We even sent my family pictures of us in our characters' wedding day costumes pretending we had eloped! We joke that it's a rehearsal for us.'
Congratulations Rory and Nadine!
Stephanie Lowe is Family Editor at GoodTo covering all things parenting, pregnancy and more. She has over 13 years' experience as a digital journalist with a wealth of knowledge and experience when it comes to all things family and lifestyle. Stephanie lives in Kent with her husband and son, Ted. With his love of choo-choos, Hey Duggee and finger painting he keeps her on her toes.