Is this the longest proposal ever? Man asks girlfriend to marry him more than 100 times
She only said yes once...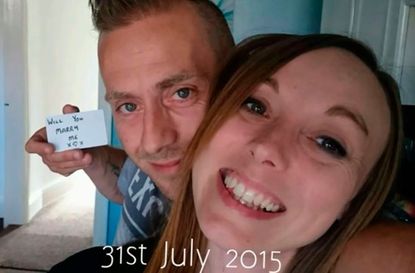 GoodTo newsletter
Sign up to the GoodTo Newsletter. You can unsubscribe at any time. For more information about how to do this, and how we hold your data, please see our privacy policy
Thank you for signing up to . You will receive a verification email shortly.
There was a problem. Please refresh the page and try again.
For every man, being down on one knee waiting for an answer to that all-important question must feel like it lasts a lifetime, but for one man it did last much longer than most.
Ray Smith, from Grimbsy, proposed to his girlfriend Claire Bramley over the course of five months, or over 150 days, and documented each and every time.
But he managed to keep it all a secret from his potential fiancée.
The 38 year old and his girlfriend are expecting a child together, and Ray wanted to make the 'yes' moment extra special.
Beginning on 31st July 2015, and ending on 25th December, Ray told Claire that he wanted to document her pregnancy in a series of selfies.
Claire, 33, who is now eight months pregnant, said; 'I had no clue; I was totally oblivious to it all. He told me he was taking the pictures to create memories for the baby so I just let him get on with it.'
In each picture Ray manages to sneak in a hidden note with the message – will you marry me?
Ray said: 'I told her I was taking the pictures to track the progress of the baby, which was a little bit of a ruse.'
If right about now you're feeling skeptical about how any woman would allow her husband to take pictures without a serious vetting and taking a look through the pics, Ray had a plan; 'Sometimes she wanted to see the pictures so I had to take more than one – one with the card and one without.'
Finally on Christmas Day, after compiling all of the images in a YouTube video, Ray decided it was time for the real deal; 'It was all a bit chaotic on Christmas Day morning so I took her away and set it all up on the laptop. I got down on one knee and gave her a bit of spiel, and then popped the question.'
Despite having been proposed to over a hundred times already, Claire was still surprised.
The mum-to-be said; 'I was totally surprised, but in hindsight it's exactly the kind of thing he does. He likes to do romantic things. I said yes straight away, I didn't need to think about it. I got a bit emotional but I am pregnant after all.'
Congratulations on the engagement guys!
Watch Ray's unusual and ever-so romantic proposal in full:
http://www.youtube.com/watch?v=KYAeqchcpZo