Emmerdale stars Fiona Wade and Simon Cotton marry after spending two months apart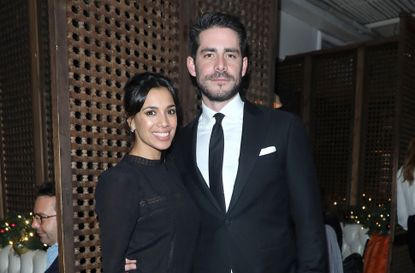 (Image credit: Getty)
Emmerdale star Fiona Wade has married fellow actor Simon Cotton in a lavish wedding ceremony after two years of dating.
The actress who plays Priya Sharma on the ITV soap and Simon, who also had a brief stint on the programme in 2017, tied the knot surrounded by their family and friends.
The pair met during Simon's time on Emmerdale and have been dating ever since, confirming their engagement at the beginning of this year.
Due to the happy couple's "old fashioned values," they spent almost two months apart before the big day.
Having lost her father to oesophageal cancer 14 years ago, Fiona was walked down the aisle by her mother Tessie in a moving moment.
As the big event continued into the night, Priya's cast mates hit the dance floor until the small hours.
READ MORE:Tennis pro Andy Murray and his wife Kim Sears have welcomed their first son (opens in new tab)
"Everyone was on the dance floor until 1.30am. The Emmerdale lot didn't leave the dance floor," Fiona said to OK! magazine.
Swooning over his new wife, Simon told the publication, "They say when you meet the person you're meant to be with you know. I had started to give up on that ideal and then I met Fi. She was the most beautiful woman I had ever seen."
While sensible in love Fiona admitted that it wasn't quite love at first sight for her but explained that she soon fell for Simon's loving nature.
"It took me longer than Simon. I don't fall into relationships easily, but I wanted to be really sure. Everything with Simon is just so easy. He's also amazing with my mum, which is really important," she said.
The news of their engagement was shared on Instagram back in January with a series of gushing posts.
Beside a sweet photo of the pair gazing into each other's eyes in a candle lit room, Fiona penned, 'Two days ago this beautiful man asked me to be his wife. There has never been an easier answer to a question.... Yes! 💍❤️ Feel so incredibly blessed 💛 Wishing you all a wonderful 2019 & so much love for the year ahead ❤️🎉😘.'
Meanwhile Adam posted a snapshot of the pair sharing a smooch underneath a super romantic piece of street art.
Captioning the photo he wrote, 'In ❤️ and...engaged! @fionawade1.'
Congratulations to the happy couple!