Fearne Cotton reveals how a 'rough patch' made her marriage to Jesse Wood stronger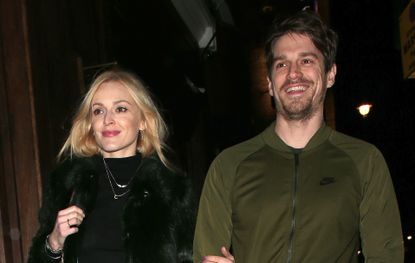 Fearne Cotton has opened up about the realities of marriage.
Taking to her column for Red magazine, the TV and radio presenter admitted that her marriage to husband Jesse Wood recently went through a 'rough patch' which made her fear whether 'the love had gone'.
Fearne very honestly delivered this message to readers: 'Love takes hard work - and no one wants to hear that.'
'This year, Jesse and I hit a rough patch - he was away, touring relentlessly, I was trying to keep my own career going while looking after our kids and we were both desperately clinging on to our marriage.'
The 37-year-old presenter delved deeper into their issues, admitting that these pressures understandably resulted in quite a tumultuous row:
'One blustery and grey day, this culminated in a screaming match in our local park, which lasted about two hours until we both broke and cried.'
Fearne Cotton opens up about mum guilt and the importance of finding time for yourself
Fearne then shared with readers how the couple, who have been happily married for five years, managed to put things in perspective and move past their frustration: 'Through talking and understanding one another, we broke through the s**t bit and found ourselves, strangely, in an even deeper kind of love.
'We knew each other that bit better, we respected each other that bit more.'
She continued: 'In that moment, we both stopped to remember that we are passionate in these situations because we care deeply.'
Fearne and Jesse first met in 2012, and were married two years later. They have welcomed two children together, five-year-old Rex and three-year-old Honey.
Fearne has since posted on Twitter to clarify the comments she made in her column, as many people have taken them to mean that her marriage is in jeopardy, rather than understanding she was simply sharing her own experience of the perfectly natural (not-so-perfect) messy patches that every married couple goes through.
The presenter wrote: 'Essentially if you write something honest which depicts the light and shade we all experience in life, the bit people will subsequently write about is exclusively the dark bit. I'm looking at the light bit.'
Fans commented underneath Fearne's post to commend her ability to talk about the realities of marriage, with one writing: 'who doesn't row with kids, jobs and no sleep.'
Could anyone honestly offer an example of a relationship that hasn't had it's ups and downs!? Fearne, we salute you!
Freelance Lifestyle Writer
Niamh McCollum is a freelance lifestyle writer who has written for Future titles GoodTo and Marie Claire UK, plus the Irish Independent. The Dublin-based journalist specialises in stories
affecting families - from health updates, to the freshest parenting debates and celebrity announcements.