'It's quite a normal way to meet someone' Holly Willoughby forced to defend her relationship with husband Dan during This Morning debate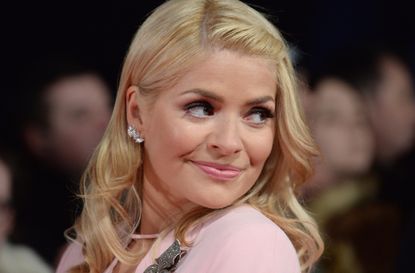 (Image credit: Anthony Harvey)
This Morning presenter Holly Willoughby has commented on her relationship with husband Dan Baldwin, defending the way the couple met.
Presenters Holly Willoughby and Phillip Schofield both got involved in a debate around workplace romances, which featured on a segment during Tuesday's episode of the magazine show.
Following news that McDonald's CEO Steve Easterbrook was fired after having a relationship with an employee, viewers were encouraged to call in if they had any problems with a workplace relationship or even an affair.
Show psychologist Emma Kenny was on hand to give any advice to callers, saying, "If you're in a situation and you're in the office you're having an affair with somebody, if you've got issues…
"Also, do you think someone is taking advantage having an affair with the boss, promoting themselves at work?
"If you have a family member struggling with an office romance, please get in touch."
Holly responded to the topic at hand, saying, "We should both call in! I met Dan at work, guilty!"
Phillip also revealed he was in the same boat, saying, "I met Steph at work. A lot of people meet their partner at work."
Holly Willoughby then defended workplace relationships, dismissing negative stereotypes that people might have about them. She said, "It's quite a normal way to meet someone. It doesn't always have to be some sort of illicit affair. It can be quite a lovely, nice thing."
Holly and husband Dan Baldwin met whilst working on children's TV show Ministry of Mayhem, and married in 2007. They now have three children together, Harry, Belle and Chester.
The presenter keeps her family life quite private, but occasionally shares sweet photographs of her children on her Instagram account.
Recently, Holly Willoughby shared a rare family snap of all three children (opens in new tab), much to the delight of her 5.9 million following.
So it seems that a workplace romance worked out very well for Holly and Dan, as well as Phillip Schofield and his wife Stephanie Lowe.
Phillip and Stephanie married in 1993 and have two adult children, Molly and Ruby.
Do you think workplace romances can be a good thing? Let us know your thoughts on Facebook!