James Middleton confirms engagement to Alizee Thevenet after one year together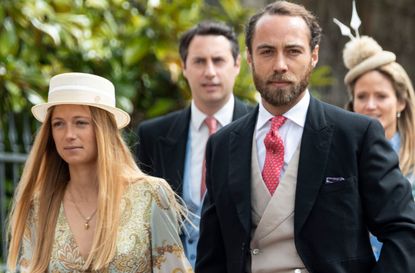 James Middleton, the brother of the Duchess of Cambridge, has confirmed that he's engaged to Alizee Thevenet.
Following reports that he had gotten down on one knee, James took to social media to confirm that he is indeed engaged to his girlfriend on one year, Alizee.
Alongside a cute selfie of the two where the ring can be seen, he wrote, '❤️She said OUI ❤️.
'Our secret is out but we couldn't be happier to share the news 🥂🍾 #jalizee 🇬🇧🇫🇷'.
Friends of the couple were quick to send their congratulatory messages, with one saying, 'Congratulations my dearest couple!!! All the best for you ❤️❤️❤️❤️❤️❤️❤️❤️❤️❤️❤️❤️❤️'.
Another wrote, 'Happy happy news 💝 congrats you 2. xx'.
The lovely announcement comes just a year after the two started dating. James and Alizee reportedly met at the exclusive South Kensington Club, when the French woman said hello to his Cocker Spaniel, Ella.
The two have reportedly moved in together, and went on holiday to the Caribbean last winter alongside the rest of the Middleton family.
Before meeting Alizee, James was in a five year relationship with Donna Air, but the pair went their separate ways in 2017.
The split was confirmed by Donna a few months later, when she told Mail on Sunday, "James and I are no longer an item. We parted ways in December but remain the very best of friends and always will be."
READ MORE: Donna Air confirms split from Kate Middleton's brother James
The two were thought to be very serious as Donna even attended Pippa Middleton's wedding in 2017 - whose no ring, no bring rule is thought to be the reason why the Duchess of Sussex only attended the evening reception.
The happy news for the businessman come a few months after he opened up about his battle with depression.
In January 2019, he wrote op-ed for the Daily Mail that read, 'Depression is only a small part of the complex jigsaw that is me. Since childhood, I've known I was severely dyslexic—both letters and numbers still jump and blur on the page in front of me and some days I have difficulty spelling even the simplest words.
'But it was only when, a year ago, I was also diagnosed with Attention Deficit Disorder (ADD) that all the quirks and foibles of my character started to make sense.'
Congratulations to the lovely couple!