EastEnders' actress Louisa Lytton engaged to boyfriend Ben Bhanvra after special proposal in the Maldives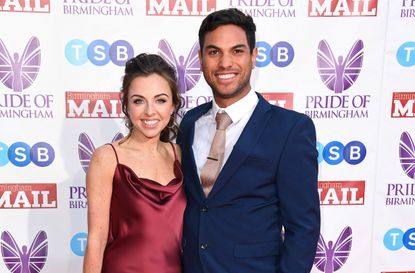 Louisa Lytton is engaged to American boyfriend Ben Bhanvra, after he popped the question during a romantic luxury holiday to the Maldives during her 30th birthday celebrations.
The 30-year-old actress exclusively revealed to OK! that she 'burst into tears' when Ben got down on one knee to pop the question earlier this month.
Though, Ben admitted his proposal didn't go quite as he planned.
He told OK!: 'I took Louisa to a quiet part of the island where I knew no one else would be around.
'I told her I wanted to fly my drone to get some aerial pictures of the island, although really I wanted it to capture a video of the moment I proposed.
'As soon as I got it up in the air and reached to get the ring from the bag a cleaner walked past and was so mesmerised by the drone he was just stood next to us staring at it for ages.
'I had to wait for him to leave. The cleaner finally disappeared so I got a speaker out of my bag that I was going to use to play a song for when I proposed but the Wi-Fi signal was bad so I couldn't get it to play.'
Ben revealed he was so frustrated that he decided to grab the ring and drop to one knee to ask Louise the big question.
Louise admitted she was so shocked by the proposal she was 'crying like a baby.'
She said: 'My life has done a complete 180", she said: 'If you told me five years ago I'd have a stable job working on a show I love and engaged, I would never have believed you.
'When I saw him on one knee I started crying like a baby. I was so excited but my brain went into overdrive and I started freaking out. I had no idea he was going to propose.'
Louise has since confirmed the news on her Instagram feed today, sharing a picture of the serene blue ocean and the beach hut where Ben got down on one knee and presented her with the ring.
She captioned the picture: '06.05.19 💍💍💍💍💍💍💍💍💍💍💍💍💍💍💍💍💍💍💍💍💍💍.'
It seems love is in the air for the EastEnder's stars, with fellow co-stars Aaron Sidwell announcing his engagement to Tricia Adele Turner last month, and Laurie Brett tying the knot with fiancé Dennis Longman earlier this year.
Fans and friends have been quick to congratulate Louisa and Ben with warm messages on social media.
Fellow EastEnder's co-star Daisy Wood-Davis said: 'Congratulations!!!!!!!😍😍❤️.'
And, British actress April Pearson, best known for her role in Skins, said: 'Ahhh!! Congratulations darling!!! 😍❤️💋.'
The happy couple are planning a wedding in 2012 in America near York.
Sibelle Mehmet is a Junior Digital Writer at Goodto.com. She joined the team in April 2019 and was her first job since completing a MA in Magazine Journalism at City, the University of London in the summer of 2019. Sibelle previously interned at a number of national titles including OK!, Heat, Closer, Mother & Baby, and The Times Newspaper magazine. She's written extensively about the latest celebrity, showbiz, and royal news.