The Chase's Mark Labett splits from wife Katie Labbett after five years of marriage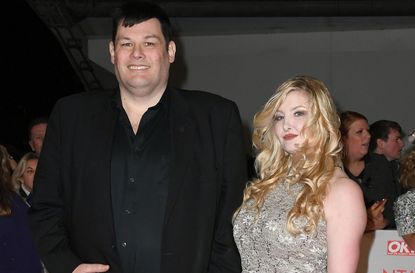 (Image credit: REX/Shutterstock)
The Chase's Mark Labett has split from wife Katie Labbett.
The 53-year-old, who is known on the popular ITV programme as 'the Beast', has split from his wife of five years.
Katie, who shares a son with the quizmaster, confirmed the split and admitted that she has moved onto a new relationship with newfound love Scott Bate since her marriage has ended.
'Mark and I had been talking about separating for some time,' the 26-year-old told The Sun on Sunday. 'We have been drifting for a while. He works away a lot and that's been hard.
Read more: The Chase star Paul Sinha announces surprise engagement
'A lot of people think it's the age difference,' she added, 'but we don't see that as the factor.'
Speaking of the relationship's disintegration, Katie said: 'It's more that we don't have mutual friends, and our lives are just very different.
'I met Scott by accident, on a night out, and we just clicked,' she continued. 'It wasn't intentional, it just happened...'
'But Mark always knew — straight from the off I was honest,' admitted Katie. 'He knew I was going out and who I was seeing. He was incredibly understanding. If it was anybody else it wouldn't matter, but because Mark's in the limelight people have been gossiping...
'We remain good friends,' she added. 'He is happy for me that I've met Scott — and I'd be fine if he met someone else. So I just want to set the record straight now as I'm sick of all the speculation. I want us all to be able to get on with our lives.'
Three years after the pair tied the knot back in 2014, they oddly discovered that they are in fact blood related.
The couple found out back in 2017 that they are actually second cousins, as their respective fathers are first cousins – a fact that they had not realised before marrying.
'It wasn't something we were aware of at the time,' Mark said on ITV's Loose Women. 'It was one of those things that happened.'
Aleesha Badkar is a lifestyle writer who specialises in health, beauty - and the royals. After completing her MA in Magazine Journalism at the City, the University of London in 2017, she interned at Women's Health, Stylist, and Harper's Bazaar, creating features and news pieces on health, beauty, and fitness, wellbeing, and food. She loves to practice what she preaches in her everyday life with copious amounts of herbal tea, Pilates, and hyaluronic acid.