Nadiya Hussain and her husband tie the knot for a second time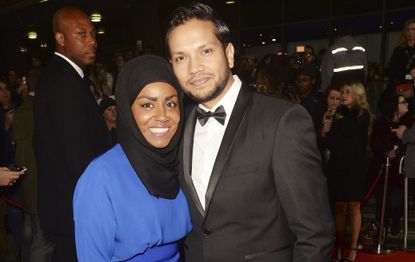 (Image credit: Getty)
Nadia Hussain has tied the knot with her husband for a second time.
The Great British Bake Off winner took to social media to reveal the news that her and her husband Abdal had renewed their vows 14 years after first marrying.
The mum-of-three posted a series of sweet photos on her Instagram page, showing off her new wedding ring, the gorgeous cake she obviously made for the ceremony and, of course, a couple of snaps of the loved-up couple beaming at each other.
Alongside the adorable images (which you can flick through on the embedded Instagram post below), she wrote: 'Nothing fancy just love. No frills. Just us. We did it again. I do. I always will. I would do it all over again #married #secondtime'
Fans rushed to congratulate the 33-year-old, writing: 'Congratulations! You both look beautiful xx', 'What a beautiful thing to do this is so heartwarming and sincere I applaud you', 'You are such a gorgeous couple. Congratulations' and 'Awe you finally had a wedding cake! Congratulations on your nuptials!'
And one even questioned her unusual band, writing: 'What's the meaning of the band around two fingers? Never seen that before.'
Nadiya first married her husband in a traditional Islamic ceremony in Bangladesh after their parents had set them up in an arranged marriage.
The couple had only met each other once before tying the knot.
The TV baker has previously opened up to Good Housekeeping magazine about her feelings towards her arranged marriage, saying: 'I didn't know my husband, and then we had two children, and then I fell in love with him.'
Earlier this year she also revealed the couple's secret to a happy relationship, saying that they refuse to argue.
'We disagree on things,' she told ITV's Lorraine, 'we're two very different people, we're really different – but we just don't argue.'
'I want to argue sometimes,' she says, 'but he just doesn't, he just walks away.'
Congratulations Nadiya and Abdal on your beautiful ceremony.