Peter Andre admits he begged wife Emily to leave him as he battled depression after brother's death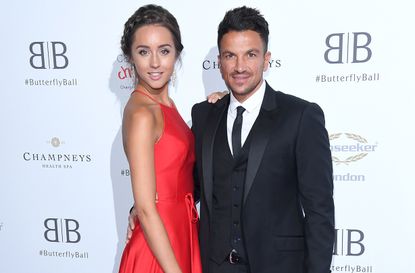 (Image credit: Getty)
Peter Andre has spoken out about how he begged wife Emily to leave him as he battled depression.
The 46-year-old has admitted that he battled with depression after the death of his brother and that this led him to begging wife Emily to leave him.
The musician has spoken out about his difficulties with mental health, revealing that he started suffering from panic attacks back in 1998 when he first rose to fame.
Revealing that this came to a head back in 2012 when he lost his older brother Andrew after a short battle with kidney cancer, Peter said that he found himself in such a depressive state that he advised then-girlfriend Emily to leave him.
'I told her: 'You can either stay and stick with me through this, which I personally wouldn't, or you can go',' he told the Guardian.
'And she said: 'It's not even a question, we are going to get through it together'.'
The pair married in 2015 and share two children together, five-year-old Amelia and two-year-old Theodore.
Read more: Emily MacDonagh opens up about husband Peter Andre's battle with depression
The TV star further opened up on his battle with mental health, saying that back in the late nineties he took a six-year-break from his career where he would stay in bed for months due to his struggle with anxiety (opens in new tab).
He revealed that he suffered from anxiety after being viciously attacked by a stranger.
'I couldn't breathe. I ended up in hospital, and the panic attacks would come one after another,' he said. 'Years later, after therapy, I realised it all stemmed from that fear of being killed. I know it sounds dramatic.'
Peter only emerged back into the limelight after appearing in the 2004 series of I'm A Celebrity…Get Me Out Of Here!, where he met ex-wife Katie Price, who is the mother of his two oldest children Junior, 14, and Princess, 11.
If you have been affected by any of the above, speak to your GP or visit the NHS website to find out what support there is available to you.
Aleesha Badkar is a lifestyle writer who specialises in health, beauty - and the royals. After completing her MA in Magazine Journalism at the City, the University of London in 2017, she interned at Women's Health, Stylist, and Harper's Bazaar, creating features and news pieces on health, beauty, and fitness, wellbeing, and food. She loves to practice what she preaches in her everyday life with copious amounts of herbal tea, Pilates, and hyaluronic acid.