Rag 'N' Bone Man ties the knot with Beth Rouy in tracksuits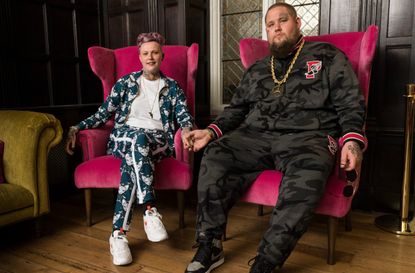 Rag 'N' Bone Man marries his fiancée Beth Rouy, both wearing colourful tracksuits alongside their guests!
The musician, whose real name is Rory Graham, wed his long-term girlfriend, Beth Rouy, at Lewes Registry Office in East Sussex on Tuesday.
The singer and Beth opted for relaxed clothing, rather than traditional wedding attire, and took part in the ceremony wearing their trackies.
It seems they also asked their wedding guests to sport the same look.
Beth wore a teal tracksuit designed with a cat prints, and the groom wore a matching camo tracksuit.
Beth's sportswear design was inspired by the couples' cat, called Patricia.
The lovebirds posed for wedding photos outside the wedding venue, both wearing tinted sunglasses as well.
They continued the shoot indoors, sitting on pink velvet thrones looking absolutely over the moon.
Fans took to social media to congratulate the pair.
One said: 'Love this, they have made it totally what they want and look super comfy XXX congratulations.'
Another added: 'Imagine the after party, what a guy 🎉🎉.'
Some were pleased with the couples' choice of tracksuit bottoms.
One wrote: 'Good for him. Nice and comfy.'
Others joked the pair opted for trainers in case they got cold feet and needed to make a quick exit.
One said: 'Well I guess as a guest, you wouldn't have to stress over what to wear 😂😂😂. Do you think she chose this option incase she changed her mind, she would have trainers on to do a runner 😂😂 much easier to run in trainers than heels lol x.'
Rory and Beth have been happily together for nine years, although the singer did not announce their engagement to the public.
The pair welcomed the arrival of their son Rueben, now 20-months-old, in September 2017.
He announced the exciting news on The Jonathon Ross show. He said: 'My little boy. He was born about five days ago. His name's Reuben. He's tiny. I'm really chuffed.'
The couple also have a beloved Sphinx cat called Patricia.
Sibelle Mehmet is a Junior Digital Writer at Goodto.com. She joined the team in April 2019 and was her first job since completing a MA in Magazine Journalism at City, the University of London in the summer of 2019. Sibelle previously interned at a number of national titles including OK!, Heat, Closer, Mother & Baby, and The Times Newspaper magazine. She's written extensively about the latest celebrity, showbiz, and royal news.