Undateables stars Daniel Wakeford and Lily Taylor announce their engagement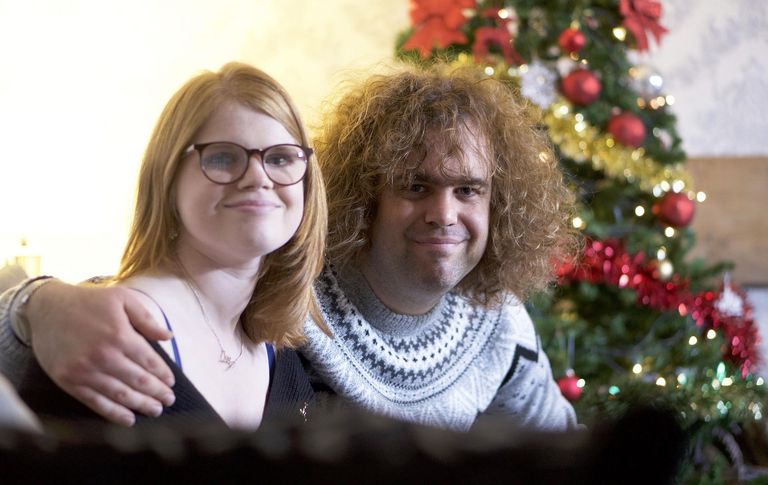 (Image credit: Betty Productions)
Undateables couple Daniel Wakeford and Lily Taylor have announced their engagement.
The pair got together on last year's Christmas special of the popular Channel 4 TV show, soon after hitting it off during a coffee date.
And now, a year after they got together, the two got engaged on this year's festive edition of the programme.
When the Christmas special airs, fans will be able to watch 30-year-old Daniel from Brighton, who has autism, get down on one knee during a date at Brighton Brandstand, which is Lily's favourite place.
The episode will see music fanatic Daniel pop the question after serenading his 23-year-old now fiancée with iconic yuletide tune All I Want For Christmas Is You, by Mariah Carey.
After proposing to his love with a diamond ring, Daniel jumps up and says: I'm feeling very excited. What's the best feeling in the world? Love,' reports Mail Online.
The happy couple were watched by their parents, who were ecstatic at the news.
'When he found Lily, all his Christmases came at once,' said Daniel's dad Barry.
'Lily likes me on the telly, and now she's being my girlfriend,' Daniel told the Mirror in October. 'It feels so lovely when I'm with her. It's been nearly a year now.'
The singer first appeared on the dating show back in 2015, but returned last year for the festive special.
On their first coffee shop date, he introduced himself to his partner, who has learning difficulties, as a 'rockstar' and complemented her hair, before wining her over with a performance of one of his songs.
Later on the date, Lily told him 'I fancy you very, very much' before sharing a kiss with her now-fiancé.
Appearing on This Morning last year, Daniel's mum Carol said that she had originally turned down the request for her son to appear on the show.
'I didn't like the name of it,' she said, 'so it's a bit naughty, but I said, "No thanks", without asking Daniel.
'Then a year later, he said he wanted to be on the show. I said I didn't think it was a good idea as it didn't sound very nice.
'But then Daniel said, "Have you watched it mum?" I hadn't, so we all sat down and watched it and I thought it was really lovely.'
And it certainly turned out to be the right decision! Big congrats to Daniel and Lily.
Aleesha Badkar is a lifestyle writer who specialises in health, beauty - and the royals. After completing her MA in Magazine Journalism at the City, the University of London in 2017, she interned at Women's Health, Stylist, and Harper's Bazaar, creating features and news pieces on health, beauty, and fitness, wellbeing, and food. She loves to practice what she preaches in her everyday life with copious amounts of herbal tea, Pilates, and hyaluronic acid.