Relationship problem: 'My fella's into cross-dressing'
Lots of you have written in about your partners being into cross-dressing so we've got Agony Aunt Joan McFadden on board to answer your relationship problems...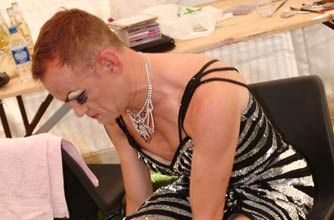 Cross-dressing's been the hot-topic on goodtoknow's sex stories, so we've got Agony Aunt Joan McFadden on board to help answer your relationship problems. Here's one of your questions about cross-dressing and Joan's answer.
Cross-dressing question:
'My husband and I have been married for 20 years. Four years ago I thought he was having an affair after a work conference when I found women's underwear in his case. I confronted him about it and he was absolutely distraught. He completely denied it, saying it must have been left in the drawer of his hotel room and he scooped it up by accident when he was taking his own clothes out.
I believed him, thinking that even if he was up to something he'd had a big enough fright not to do it again. We have two teenage children, we get on well and we have a good sex life, so I tried to forget about it. But then a couple of months ago, I found a lipstick in his suit pocket when I was taking clothes to be dry cleaned. I started watching him closely and then two weeks ago I deliberately came home from work early, when he said he'd be working at home. I was totally unprepared for what I found; my husband was in full woman's clothing and makeup!
He was really upset when I walked into our room, but he now says he's glad I've found out. I can't believe this.
We've had a normal sex life all these years; does this mean he's gay? He doesn't seem at all upset now. He says Jordan's husband dresses in woman's clothes and there's lots of men like him and it's not a gay thing, but more that he feels comfortable dressed as a woman. Now he wants to tell our children which just makes me feel sick and he wants to dress as a woman in front of us.
We haven't had sex since and he's getting quite aggressive and saying I should accept him for what he is. He's also said he wants us to have sex while he's dressed as a woman and there's no way I could do this as the very thought of it actually disgusts me. I don't know if I even want to stay married to him and I don't want our children to know. What do I do?'
Agony Aunt's answer:
Joan says: 'You need time and not to be rushed into anything. He's probably very relieved that his secret's out at last and is reacting by expecting you to accept it immediately. He's had years to come to terms with this, but it's obviously been hard for him to keep it a secret. Now you finally know about it he wants you and everyone else to be fine with it.
Firstly, cross-dressing doesn't necessarily mean he's gay and he's also told you he isn't. Secondly, just because Jordan appears to accept this doesn't mean that every wife in the same situation has to do likewise. Not everyone is comfortable with cross-dressing.
When it comes to telling your children, this is a joint decision and he needs to accept that's very far down the line at the moment. While it might make him feel better being honest at last, he needs to think about how will it will make them feel and the impact it could have on your whole family life.
Sometimes there are some things kids just don't need to know about their parents and that includes their sexual behaviour, so while this isn't necessarily just a sexual thing, teenagers might not recognise that. They can be very open-minded but telling them at present is unfair, since you both don't know where you want your relationship to go, and if your husband's cross-dressing is something that's going to become a permanent thing.'
Joan's tips
'Before you make any hasty decisions, tell your husband you need some time to think without being pressured. Ask yourself some important questions:
- Do you still love him? - Do you want to stay with him? - Can you accept his cross-dressing to any extent or will it ultimately poison your relationship?
You can't possibly answer those questions immediately but remember that he's probably scared that his marriage could be over and his relationship with his children compromised forever, so if nothing else, try and be kind to each other. Try to work together to come to terms with everything. You have a long and happy history together but only you can decide if there's also a future for you. Talking to others in the same situation could help.'
What do you think of Joan's advice? Was it helpful? Do you have a question for Joan? Email us at goodtoknow@ipcmedia.com with your sex and relationship problems and we'll answer them.Where to next? - More cross-dressing stories - Your sex secrets - Gay confessions
Trusted, informative, and empathetic – GoodTo is the ultimate online destination for mums. Established in 2007, our 15-year-strong archive of content includes more than 18,000 articles, 1,500 how-to videos, and 7,000 recipes.