Sexplanations: 'I'm tempted to cheat'
Christine Webber advises a woman who's tempted to have an affair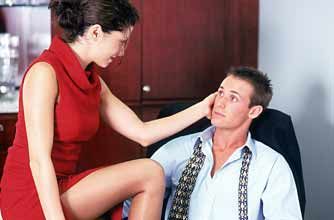 GoodTo newsletter
Sign up to the GoodTo Newsletter. You can unsubscribe at any time. For more information about how to do this, and how we hold your data, please see our privacy policy
Thank you for signing up to . You will receive a verification email shortly.
There was a problem. Please refresh the page and try again.
Every week we partner with our sister magazine, Woman, to bring you expert sexual health advice from Christine Webber, a qualified psychotherapist with her own Harley Street practice.
The problem
A male colleague gave me a lift recently and we ended up having a sexual encounter in his car. I'm married but sex has become boring and I found this so exciting. I'm not a bad person, but I want to have an affair with him and stay married. Is this possible?
The solution
Well, it may be. But it's likely the whole thing will end in tears, torment and trauma. You experienced huge excitement with your colleague but think what you stand to lose if you take it further. You say you're not a 'bad person' and I believe you.
Lots of affairs are conducted by nice people but things don't stay nice. Imagine what would happen if your husband, who I imagine adores you, found out that you'd cheated? Are you prepared for the hurt and the possibility that he might never trust you again? Or for the chance that he might leave you?
What women crave most is to be truly loved. I can assure you that it's far easier to train a loving man to have good sex with you than it is to train a sexy lover to adore you warts and all. So I reckon you should put some passion back into your marriage. How? By having lots of sex with your husband.
Some scientists claim that when we make love, we raise our levels of a hormone called oxytocin. This increases our sense of bonding with our mate. So get bonding! It takes two to make a sex life boring. So have a chat with your husband about what would turn you both on. Buy some lingerie and sex toys to put the spice back in your marriage, try new positions and make time for each other.
- Read more sex advice from Christine Webber
- There's more advice from Christine in this week's bigger better WOMAN, on sale every Tuesday.
- Is your relationship in need of some sexual healing? Email your problem to Christine on sexplanations@ipcmedia.com or to us on goodtoknow