Sheridan Smith to be married as her future mother-in-law confirms they're 'making plans for the wedding'
Sheridan Smith is engaged to her boyfriend of three months as her future mother-in-law reveals 'they're hopelessly in love'.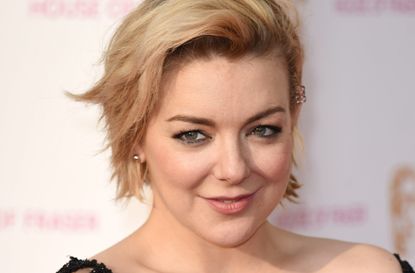 GoodTo newsletter
Sign up to the GoodTo Newsletter. You can unsubscribe at any time. For more information about how to do this, and how we hold your data, please see our privacy policy
Thank you for signing up to . You will receive a verification email shortly.
There was a problem. Please refresh the page and try again.
Sheridan Smith is engaged to her boyfriend of three months as her future mother-in-law has revealed 'they're hopelessly in love' and 'making plans for the wedding'.
Sheridan, 36, and her 28-year-old insurance broker boyfriend Jamie Horn have apparently pledged to spend the rest of their lives together after reconnecting on dating app Tinder and enjoying a whirlwind romance.
And according to Jamie's mother, Sandra Horn, Sheridan will be welcomed into the family with open arms.
'We'll be thrilled to welcome her to the family and I think they'll make a perfect couple. I'm just really happy for them,' Sandra told MailOnline.
'Both my son and Sheridan have wicked sense of humours and they get on exceptionally well.'
But according to Sandra, the couple had actually met as friends several years before romance blossomed.
She added: 'When James first met her as a friend a few years ago he had absolutely no idea she was famous.'
But when it comes to their wedding plans, Sandra remained tight-lipped, only admitting the couple planned to 'marry soon'.
She said: 'They are making plans for the wedding but it's not for me to divulge any details.'
Of her daughter-in-law to be, the former headhunter said she has met the TV and West End star on several occasions and said: 'She's a lovely warm person and very down to earth. And she looks so much prettier without all her stage makeup on.'
But that wasn't always the case as Sandra admitted she wasn't a fan of Sheridan's before their meeting 'simply because I didn't know her work as an actress - but I'm a fan now!
She added: 'I'm not sure how they've managed to keep their relationship quiet but they're not ones to sing from the rooftops.
'I'm pleased they got together after previously meeting on a completely normal basis.'
Naturally, Sandra had nothing but praise for the man Sheridan has chosen to spend her life with, and by the sounds of it the pair have plenty in common.
'He's very kind and he loves animals, particularly dogs. You'll not find a bad word to say about him' Sheridan's future mother-in-law gushed. Sheridan has a couple of pet pooches herself, including an adorable Pomeranian dog called Pandora.
'He comes from a normal family and doesn't court fame and fortune. His dad's a lawyer with a double first from Cambridge' Sandra continued.
'All you want in life is for your children to be happy, healthy and settled… Jamie has picked a perfect partner in Sheridan and we wish them every happiness.'
Jamie is reported to have proposed to Sheridan earlier this week with a £10,000 diamond ring.
A Freelance Writer and Content Editor, Jenni has been working on the women's lifestyle team at TI-Media on and off for over three years. She writes about your favourite celebrities and TV shows so you never miss an update. Jenni also writes beauty news and features - so for all of your skincare and make-up needs, drop her a line.