'Stalking made my life a nightmare!'
Vicky was excited about the freedom of being single again but the excitement was short-lived as a stalker made her life a living nightmare. Give Vicky your advice and share your sex stories with us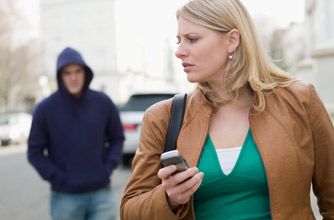 GoodTo newsletter
Sign up to the GoodTo Newsletter. You can unsubscribe at any time. For more information about how to do this, and how we hold your data, please see our privacy policy
Thank you for signing up to . You will receive a verification email shortly.
There was a problem. Please refresh the page and try again.
Your sex stories!
Vicky was looking forward to being independent and enjoying her own space after splitting from her boyfriend. She shares her story on how a stalker made her life a nightmare...
After the breakdown of a relationship I moved into a new flat, it was a new beginning for me as the relationship had been quite problematic.
One night I was sitting in my lounge watching the TV when I noticed a man sitting on the wall in front of my window, looking in at me through my curtains. I pulled back the curtain, but as soon as he saw me he ran. At this time I just thought it was nothing to worry about but I was wrong, from then on my life became a nightmare.
That night, I was woken by the sound of tapping on my bedroom window. Too frightened to move, I didn't pull back the curtain. It wasn't until the tapping turned to heavy knocking that I panicked. I called my ex-partner who came round to comfort me, by the time he arrived the knocking had stopped.
The tapping returned the following night and I realised it was the sound of stones hitting my window. This time I pulled back the curtain and I saw a man in his late twenties standing at my window, who smiled at me before disappearing. I rang the police, but he was long gone by the time they arrived. My dream of living independently without fear had come to an end, I felt like my private space had been invaded.
A friend came to stay and the bother stopped, but as soon as she left I heard another funny noise outside. I called the police again who found a message written on my window in PVC glue, it read: 'Do you want to f**k sexy? And 'I am going to f**k you sexy.' The police said they could only arrest someone if he was caught on my property or physically hurt me, so I knew there was nothing I could do.
A friend and her boyfriend stayed with me for a while and nothing happened while they were there. I started having vivid nightmares and sunk into a deep depression. I was always late for work and I would binge drink just to go to sleep.
Two weeks after my friends left I woke in the night to go to the bathroom. When I got there I noticed that the door was closed and locked from the inside. My heart began racing as I forced open the door. The bathroom was empty - but the window was wide open. I didn't bother to phone the police this time, as I knew they wouldn't be able to do anything. I felt helpless. I stopped sleeping and my confidence spiraled.
I then met a new man, who quickly moved in with me. As before, with someone in the house, the night visits stopped. The stalker did return one night however and it was only when my boyfriend chased him that we realised he lived next door! That's how he knew when I was alone! After he was chased away I never saw him again. Unfortunately the psychological damage I suffered ruined my relationship and I continued to have nightmares for a long time after.
I'm now living with a new partner and am really happy. I want to tell my story so people take stalking seriously as even if a stalker never manages to physically hurt you, they can psychologically damage you for a lifetime.
Have you had a similar experience? Do you want to share your story with us? Email us with your sex stories. Or if you have any advice for Vicky just comment below.
Where to next? - 'I'm obsessed with my ex!' - 'I can't escape from my ex' - More sex stories...