People think this wedding picture looks very rude but can you see why?
That's an unfortunate angle…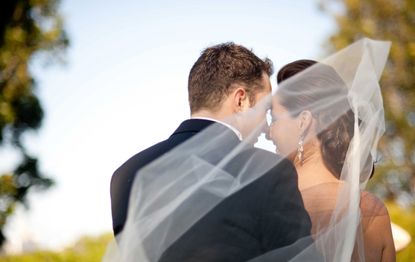 Wedding photos can be tricky territory but one bride might not realise how rude this innocent snap from her special day looks! Can you spot it?
If there is one day you want to look and feel your best in all the photographs you're in, it's your wedding day right?
For many brides their wedding day is a very special, albeit stressful day and getting everyone together for all the pictures they want can be a very tricky task.
But when the day is over and you get to look back at all the pictures your friends and family have taken, it can be very special time, bringing back lots of very happy memories.
One bride may have had a slightly different reaction however when she was presented with this hilarious snap, captured on her big day.
An unfortunate angle makes the seemingly innocent picture look very rude indded, but can you see why it has got everyone talking?
https://imgur.com/gallery/byE0kQq#qnxdfZI
The picture was shared on Imugur with the caption: 'Party in the front, business in the back'.
Because of an optical illusion, created by one of the guest's arms, it looks like the bride's dress is cut out to show off her bare bum!
Read more: This couple's wedding photo has gone viral – but can you spot why?
The hilarious picture has fooled lots of people and has more than 100,000 views on the image sharing site.
One person wrote: 'Help I don't know what's going on'.
Another said: 'My 4 year old saw this and said mommy why is her butt out?'
A third person added: 'Okay, I know that this is supposed to be about the arm/shoulder. But WTF is with the guy in the background with the tie?'
Were you fooled by the unfortunate angle? Head over to our Facebook page to tag your friends and see if they'll spot it too… Don't spoilt the fun and give it away straight away though!
Jessica currently works as a Senior Food Writer at Future. She writes food and drink-related news stories and features, curates product pages, tests, and reviews equipment, and also develops recipes that she styles on food shoots. An enthusiastic, self-taught cook Jess adores eating out and sharing great food and drink with friends and family. She has completed the Level 1 Associate course at the Academy of Cheese and is continually building on her knowledge of beers, wines, and spirits.