Most popular wedding songs revealed – plus, what couples wished they'd chosen instead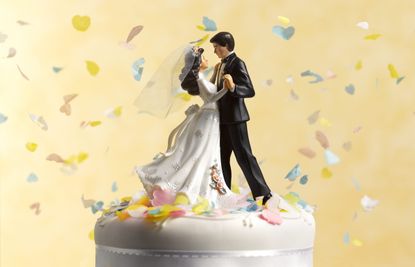 (Image credit: Getty)
Choosing the right wedding song takes a lot of consideration, but, surprisingly, a lot of people regret their decision.
54 per cent said they would choose another tune for their first dance song if they were to marry again, according to research carried out by GoodtoKnow.
The survey of 1,000 people was directed at married adults living in the UK and participants were asked to reveal both their wedding song and what they would choose for their first dance song now.
Read more: This last minute change could affect May 2020 weddings
Golden oldies have been replaced with modern artists' offerings from the likes of Ed Sheeran and Snow Patrol, with Ed Sheeran's 'Perfect' the clear winner for today's weddings.
Couples' top choice was 'Wonderful Tonight' by Eric Clapton, topping the polls. Paul Weller's 'You Do Something To Me' was also a favourite.
The most popular first dance songs couples chose for their wedding day
Wonderful Tonight, Eric Clapton
You Do Something To Me, Paul Weller
Hero, Enrique Iglesias
Have I Told You Lately That I Love You, Rod Stewart
From This Moment, Shania Twain
Stand By Me, Ben E King
Angels, Robbie Williams
Eternal Flames, The Bangles
Perfect Day, Kirsty McColl
Power of Love, Jennifer Rush
Modern favourites include 'Crazy In Love' by Beyonce and a tongue-in-cheek suggestion of 'Here You Come Again' by Dolly Parton.
The top wedding songs couples would choose if they were to marry again
Perfect, Ed Sheeran,
Thinking Out Loud, Ed Sheeran
Chasing Cars, Snow Patrol
She Will Be Loved, Maroon 5
One, U2
Unchained Melody, Righteous Brothers
Elton John, Your Song
All of Me, John Legend
Always, Bon Jovi
You're Still The One, Shania Twain
Which wedding song did you go for?
We'd love to hear from you, whether it's about your first dance song, or the music you walked down the aisle to. Let us know by dropping us a message on Facebook (opens in new tab) or Instagram (opens in new tab).
How very romantic...
Lauren is a senior content editor covering everything from the latest royal news to fashion, beauty and health content. Lauren graduated from her masters in magazine journalism in 2011, quickly making the transition over to digital and has never looked back. From getting out a breaking news story to penning an in-depth feature, she loves the variety of writing for digital platforms.