We earn a commission for products purchased through some links in this article.
We never knew an advert about chewing gum could pull at our heartstrings quite so much!
This powerful new advert from Wrigley's Extra focuses less on minty fresh breath and more on the milestones of love and relationships, and after watching the whole two minutes, we need somebody to pass the tissues.
The film is set to Haley Reinhart's cover of 'Can't Help Falling in Love', which only adds to the complete rollercoaster of emotions that you feel watching the two main charcters' love story unfold.
Sarah and Juan's romance begins in high school, as Juan kindly helps Sarah pick up her books after she drops them. No tears on our keyboards yet, but we know something's brewing…
We next see the duo on a date in a car, where they awkwardly share their first kiss (we can all relate to that, right?). This time we also see the lovebirds sharing some chewing gum, and Juan keeps the wrapper, but we don't know what he's up to just yet.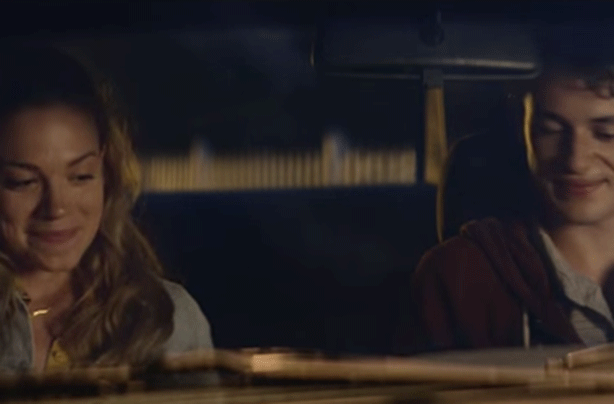 The dates continue as time passes, through the seasons, each occasion increasing in romantic gesture – a picnic in the park turns into kissing in the snow.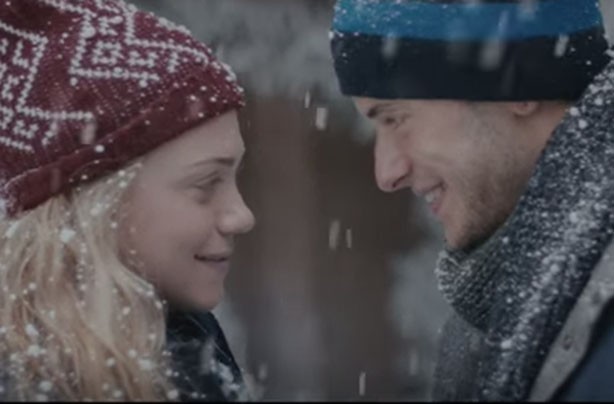 The pair are still teenagers at this point, and so it's back to school for prom. This time it's Sarah who remembers to bring the gum and slips Juan one mid-way through a couples dance. Maybe she's dropping a hint Juan?
However, it's not all images of domestic bliss, and as the ad unfolds we follow the romantic pair on a journey that leaves us feeling ever so weepy right to the very end – and we're not the only ones! The internet has understandably had a lot to say about the romantic-ad.
Want to know what happens to Sarah and Juan? Watch the ad in full, and have those tissues at the ready!
Told you. Let's just take a moment to relive this super-sweet moment…
Sarah goes home to visit Juan and we finally learn what he's been doing with those chewing gum wrappers all this time (and that he is quite the little artist!)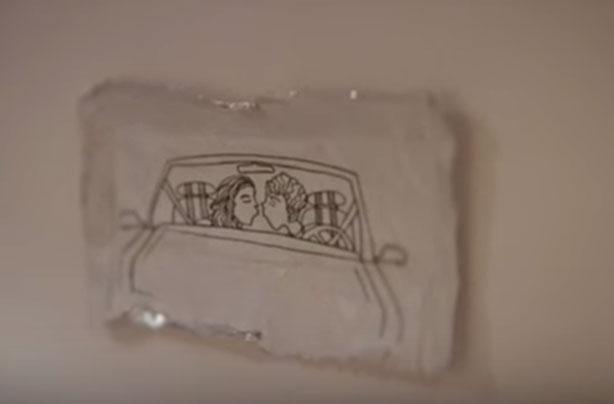 He's been drawing every one of their dates on the back of the gum wrappers he's been stashing away, and has put them into an exhibition of memories.
And then in a climax worthy of the finest works of romance, Juan has drawn a final scene that none of us saw coming. His cartoon drawing is proposing…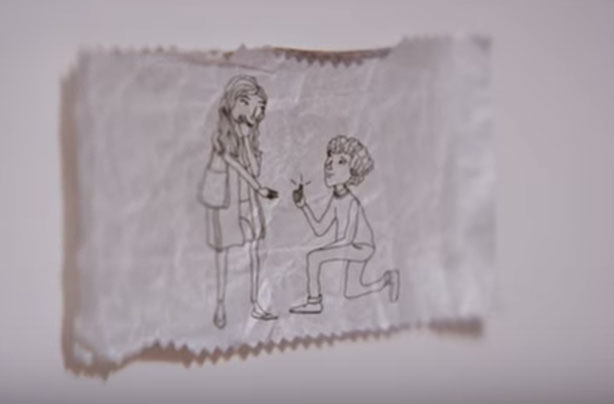 … and guess where real-life Juan is?
Awwww!