Former Blue Peter presenter Zoe Salmon gets married in secret Caribbean ceremony
'I didn't even tell my mum and dad!'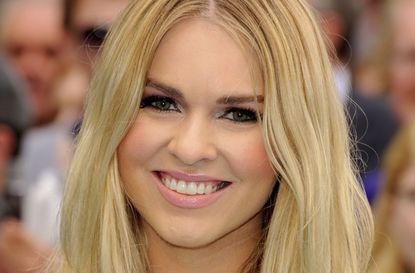 Former Blue Peter presenter Zoe Salmon has married fiance William Corrie in a secret Barbados ceremony.
The 36-year-old told Hello magazine, 'I can't wait to get home and tell everyone. I didn't even tell my mum and dad, although running off to get married does run in the family so they will be thrilled for us.'
'We'll have a big party when we get home, I'm sure of that,' she added. 'I want an excuse to wear my dress and feel the magic again.
Zoe wore a beaded dress with a long train from wedding designer Berta, which William certainly approved of.
'When I saw Zoe arrive I thought, 'Wow!'', he said.
Zoe and fiance William Corrie tied the knot in a secret ceremony, and didn't even tell their families!
The TV presenter and former beauty queen, who has also appeared on Dancing on Ice, revealed to the mag that she had loved the intimacy of their big day, which took place at the same luxury resort where Tiger Woods married his partner in 2004.
'What was so lovely was that every single conversation we had that day was with each other,' she explained. 'It was really intimate and we had so much space to breathe and take in every special moment.'
The couple met at a friends' wedding five years ago and announced their engagement at the end of 2015, with Zoe sharing a picture of the dazzling square-cut ring on her social media accounts.
'We hadn't talked about marriage, so when he proposed I was really surprised, and when he presented the ring I was doubly surprised,' she told the Belfast Telegraph at the time.
'It looks amazing. I am in awe of the fact he wanted to be traditional and asked my parents - Joe and Priscilla - in advance. I am a traditional girl.'
https://www.facebook.com/TheZoeSalmon/photos/a.399968093393099.91207.396855410371034/961963640526872/?type=3&theater
Zoe took to social media to share the news of the couple's engagement in November 2015
After congratulations rolled in on her Facebook post, Zoe replied to her fans' wellwishes, writing, 'Thank you so much everyone for your beautiful messages. I have loved reading each and every one. It's such an exciting time for Will & I. Thank you for your ongoing kindness and support.'