We earn a commission for products purchased through some links in this article.
Actress Sheridan Smith has opened up about her latest challenging role – playing cancer sufferer Lisa Lynch in the new BBC1 90-minute drama The C Word, which airs at 8:30pm this Sunday.
Speaking at a preview screening of the show, Sheridan revealed that she had become very close to the Lynch family during filming, and that the role had 'changed her life'.
Speaking through tears, Sheridan said, 'I admire her and I want to be her. Look at me sobbing here, I'm not as strong as her. But you can admire someone and go wow. She's amazing, she's inspirational and I hope for everyone she will be.'
Sheridan as Lisa with on-screen husband Paul Nicholls
The show is based on Lisa's funny, insightful blog, Alright Tit, and subsequent book, also called The C Word, which tells of her experience with breast cancer from her diagnosis in 2008 until her death in 2013. She found out that her cancer was terminal in 2011, but showed amazing resiliance, warmth and humour through her writing right up until her last post.
Lisa and Sheridan became good friends during the making of the show, and her passing had a deep impact on the star. 'She was amazing and it's been an absolute honour to have played her, I just hope I did her justice',' the 33-year-old actress said.
Sheridan, who has had to shave her head for the role, says going bald was the least of her worries when taking on the role.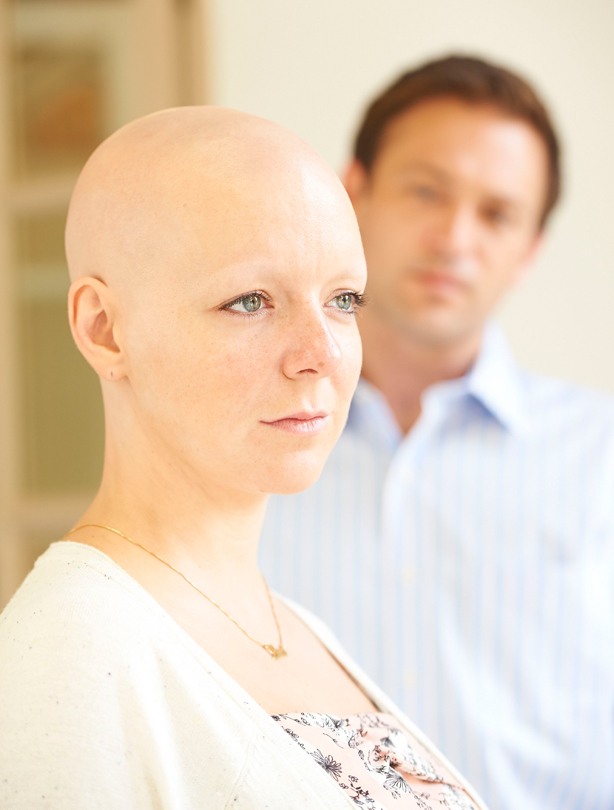 Sheridan with her shaven head, which she had to maintain daily during filming
'It's just hair, it grows back, it's the least I could do,' she explained.
'The eyebrows were the ones. You can't shave or thread them because they can grow back all weird and as an actress that might be a bit weird, so I had to pluck them and that was quite painful.'
'Everyone is affected by cancer and I lost my eldest brother to it, so, although of course you feel like you've lost a bit of your femininity, I feel it's the least I could do.'
Lisa sounds like an incredible lady, and we're sure that Sheridan has done her justice. We'll be watching The C Word with a box of tissues in hand when it airs.
The C Word will air on BBC1 at 8:30pm on 3rd May.