Shop-bought sandwiches: The best and worst revealed
They're an easy option for lunch on the go, but just how healthy is your favourite shop-bought sandwich? Find out now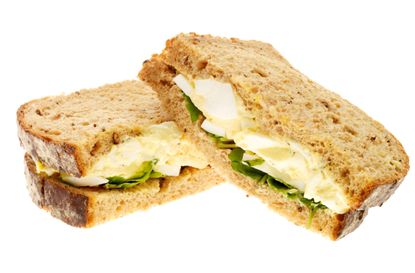 (Image credit: Martin Lee/REX/Shutterstock)
They're an easy option for lunch on the go, but just how healthy is your favourite shop-bought sandwich? Find out now
What are the best and worst shop-bought sandwiches?
Egg mayo, BLT, tuna and cucumber or just good old cheese and tomato - there are so many fillings to choose from. No wonder shop-bought sandwiches are an easy option for lunch on the go, but how healthy are they really?
Us Brits love a sandwich. Two slices of bread, a tasty filling and maybe some crisps, salad or soup on the side - sandwiches make a quick, cheap and filling lunch idea, especially when we're busy with the kids.
Sarnies are perfect for packed lunches, too. There's nothing better than tucking in to a really tasty sandwich while putting your feet up for 5 minutes after a morning of housework and chores.
When we make a sandwich at home, we can keep an eye on what we're putting in so it's diet-friendly - but what about when we pick up a shop-bought sandwich from a supermarket, bakery or high street shop like Boots?
Lots of shop-bought sandwiches aren't as good for us as they seem. Especially when it comes to salt - we found a third of a woman's recommended daily intake (6g) hidden inside some shop-bought sarnies along with lots of other nasties like saturated fat. And even some of the so-called 'healthy' takes on classics still contain lots of calories.
So, what are the best and worst shop-bought sandwiches? Well we've rounded up the most popular sandwiches from Asda, Morrisons, Sainsbury's, Tesco, M&S, Boots and Greggs.
Click through our gallery to find out the best and worst shop-bought sandwiches now...
If you want to lose weight, then sign up for a week's FREE trial of the goodtoknow Diet Club - it's so straightforward and no foods are banned! Click on the button below to get started today.

The best: Egg mayonnaise sandwich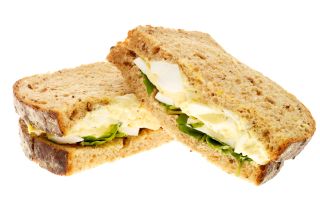 One of our favourite comfort foods, we love an egg mayonnaise sandwich! But which shop-bought version is best for beating the bulge?
The best:
Good work Morrisons! Its egg mayo sandwich fared better than the rest at just 211 calories. It had the lowest salt content too (0.8g). When it comes to fat though, Tesco's Light Choices egg mayo & cress is the winner, with just 6g and less than a gram of that is saturated fat.
The worst:
With a whopping 15g of fat and 2g of salt - not to mention the 430 calories - lunching on a Greggs egg mayonnaise sandwich probably won't do much for your waistline.
Prawn mayonnaise sandwich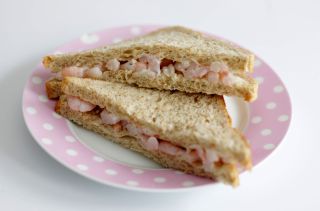 Prawns in mayo on fresh bread - yum! But how do the shop-bought versions fare?
The best:
Morrisons and Tesco take the crown again! Morrisons' prawn mayo sandwich wins for calories (232kcal), while Tesco comes up trumps for salt (1.1g) and fat (0.6g) content.
The worst:
If you're counting calories, Boots Shapers prawn mayo sandwich is best avoided. It tipped the scales with 287kcal per pack. Marks & Spencer's Count on Us prawn mayo isn't too reliable when it comes to salt either - there's nearly 2g lurking inside.
Cheese and tomato sandwich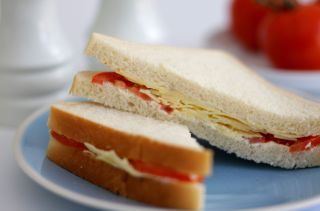 We all know that cheese isn't great when we're trying to slim down, but who can resist? Some shop-bought cheese sandwiches aren't as bad as others, though...
The best:
You could do worse than tucking in to Morrisons' cheese and tomato sarnie because it's the lowest in calories (244kcal), fat (11.7g) and salt (1.8g).
The worst:
Greggs' cheese and tomato sandwich isn't great for calorie counters. There are 450kcal hidden between the bread. Asda's offering comes in a close second - it might have just 379kcals, but the highest fat content with a hefty 18g of the stuff!
Tuna and cucumber sandwich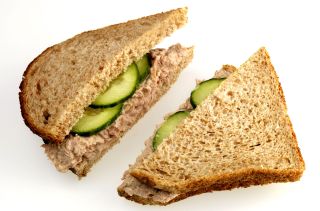 You can't beat the crunch of a tuna and cucumber sarnie! All of the tuna sandwiches we tested were from the shops' healthier ranges, but how did they measure up?
The best:
When it comes to calories, the clear winner is Tesco. Its Light Choices tuna and cucumber sandwich is just 205kcal. Fat-wise they're all pretty similar, but Marks & Spencer's Count on Us tuna and cucumber sandwich takes the crown with just over 3g - and less than 1g of that is the really bad stuff, saturated fat.
The worst:
Greggs again! Even its tuna with reduced fat mayonnaise & cucumber freshly-made sandwich isn't all that healthy, packing 360 calories and 2g salt. Asda's Good For You tuna sandwich is the fattiest with 10g of the stuff, although none of that is saturated fat.
Chicken and sweetcorn sandwich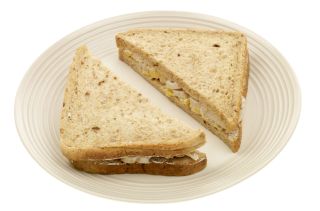 Another goodtoknow favourite! Which shop-bought chicken and sweetcorn sandwich should you pick up for lunch if you're trying to be good?
The best:
It's a tie between Greggs and Sainsbury's. Both sandwiches contain just 310 calories, but Greggs takes it when it comes to fat - the healthy reduced fat mayo option boasts just 6g per sandwich. Yum!
The worst:
Marks & Spencer's British chicken and sweetcorn sandwich is really rather naughty, and not just because of the 415 calories. There's also nearly 15g fat and 3g sugar to contend with. Tesco's chicken and sweetcorn doesn't fare much better, there's 15g of fat hiding inside.
The worst: Bacon, Lettuce and Tomato sandwich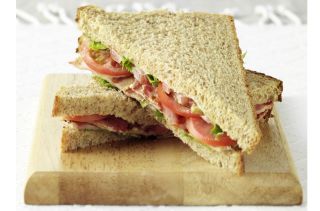 An absolute classic - how good does this BLT sandwich look? But how many calories will a shop-bought version cost you?
The best:
Perhaps unsurprisingly a BLT isn't the healthiest option, but Morrisons' bacon, lettuce and tomato sandwich isn't as bad as you might think with the lowest calories (just over 200), fat (7.7g) and sugar (2g). A no-guilt option.
The worst:
There are some pretty bad offenders to be found in this category. Asda's bacon, lettuce and tomato sandwich is definitely the worst. Brace yourself, there are 490 calories and 27g fat to be found inside! That's more than a third of your daily allowance of fat in one small sandwich! Marks & Spencer and Tesco versions aren't much better. Check the label on this sandwich filling if you want to stay in shape.
Where to next?
- 5 new diets to try now
- 30 tasty sandwich fillings to try at home
Parenting advice, hot topics, best buys and family finance tips delivered straight to your inbox.
Trusted, informative, and empathetic – GoodTo is the ultimate online destination for mums. Established in 2007, our 15-year-strong archive of content includes more than 18,000 articles, 1,500 how-to videos, and 7,000 recipes.