Stacey Solomon praised for celebrating 'muffin tops, saggy boobs and stretch marks' in Instagram video
Loose Women star Stacey posted the clip to encourage women to embrace their bikini bods...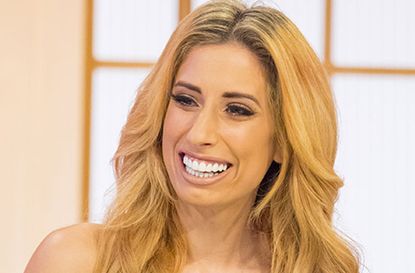 GoodTo newsletter
Sign up to the GoodTo Newsletter. You can unsubscribe at any time. For more information about how to do this, and how we hold your data, please see our privacy policy
Thank you for signing up to . You will receive a verification email shortly.
There was a problem. Please refresh the page and try again.
Mum-of-two Stacey Solomon has won the praise of fans after reminding us all to love our bodies, with a tongue-in-cheek Instagram video about her 'muffin tops, saggy boobs and stretch marks'.
The 27-year-old star kicks off the playful clip talking about the three things she loves about her bikini body, starting with the perks of her muffin top, saying: 'Not only are they insulating, but who else can lay this comfortably on a stone floor without the help of these babies?'
Flaunting her bod in a white bikini, she then goes on to prove how useful her 'saggy boobs' are, stating: 'My saggy boobies. They may not look the best, but I tell you now, I don't need a bag for anything on holiday' before producing an ice lolly and pair of sunglasses from underneath each boob.
Stacey captioned her 46-second clip with an equally powerful message, explaining it was a 'SHOUT OUT TO EVERYONE ON HOLIDAY WORRYING ABOUT HOW THEY LOOK!'
She wrote: 'You're all perfectly imperfect and unique and beautiful. I thought I'd make a little holiday video celebrating my society labelled "imperfections" because actually I love them, they're part of me, and they have their uses!
'I think if we can all show off our insecurities then we will all start realising NOBODY escapes the world of perfection that we are all under pressure to keep up with and everyone can sleep a little easier at night knowing everyone comes in different shapes sizes etc etc and we all have the same extra ordinary bits that are seen as "imperfections" but they're not they all tell a story of who we are and why we are and where we are going!'
The clip ends as she shows off the stretch marks on her hips, which she says provide 'hours of entertainment' for her children to draw on.'
Stacey with her sons, Zachary and Leighton, on a previous holiday
Stacey's fun, light-hearted clip has been viewed over 200,000 times and has struck a chord with many.
The TV personality received thousands of comments from fans, with many thanking her for being an 'inspiration' and for showing that women shouldn't be ashamed of their bodies. 'My love & respect for you has just increased tenfold,' one wrote.
While another commented: 'Keeping it real for all them mums out there xx go girl.'
Was Stacey right to make light of 'saggy boobies' and 'stretch marks'? Let us know your thoughts in the comments below?