Gemma Collins and Alison Hammond to enter ITV's Sugar Free Farm
The participants for 2016 have been announced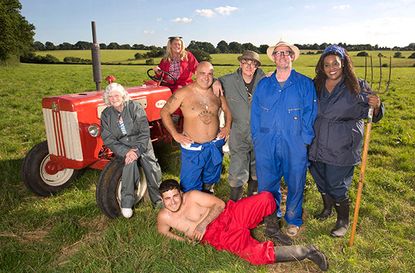 The line up for ITV's Sugar Free Farm has been announced.
The second series of the show will see TOWIE's Gemma Collins, This Morning presenter Alison Hammond, Doctor Who Peter Davison, former Strictly favourite Ann Widdecombe, I'm A Celeb's Joe Pasquale and Britain's Got Talent father-son duo Stavros Flatley take on the challenge of dropping sugar from their diets and overhauling their lifestyles for the better.
In addition to cutting out all sugars, the celebs will also ditch refined carbohydrates, bad cuts of meat, bad fats and processed foods - and they'll have to stick with the changes for a total of 15 consecutive days.
Both Alison and Gemma have been vocal about their struggles with their weight in the past. In June of this year, Alison admitted that her weight had crept up to over 20 stone, adding that 'my poor body might not be able to cope for much longer'.
'When you get really big like me, you don't see any light at the end of the tunnel,' she said during an interview with Bella magazine.
'I need to do it in small stages. If I just try and live healthily and drink lots of water, the weight loss will come. If I lose one or two stone it's not going to be obvious to anybody but I'll feel better in myself.'
Gemma, meanwhile, has fluctuated between dress sizes over the years, and has tried everything from juice cleanses to hypnotherapy to achieve her 'ideal' of a size 14.
The first series of Sugar Free Farm, which aired in 2015, caused several of the participants to dramatically alter their outlook, with Jennifer Ellison crediting the programme for helping her ditch her Coca Cola habit and shed two stone.
'I really neglected myself and took no time for myself at all, and I didn't look after my fitness or my health,' she explained at the time.
'It's not just changed me but it's educated me for bringing up my children. It's educated me about making the right choices as a wife and a mum. I've learnt more about cooking and looking after myself.'
Singer and former Loose Women panellist Jane McDonald, who also took part in the first series, dropped four stone in total, and agreed that the experience totally changed her life.
'We had to cut out alcohol, cakes, biscuits, convenience food - everything!' she said.
'The hardest thing for me was missing red wine. Oh, I love my wine! But now I've completely cut down on it, and only have a glass once a week. That's a huge deal for me!'