The life-saving campaign behind these simple black dots
The Black Dot Campaign has an incredibly important meaning behind it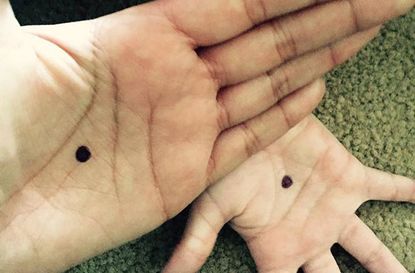 At first glance, you'd be forgiven for mistaking these simple, understated black dots as a mole or maybe even an unusual tattoo.
But these black dots, which people are drawing onto the palms of their hands, have an incredibly important meaning behind them.
The Black Dot Campaign, set up by a survivor of domestic abuse, is a signal that the person wearing a black dot is a domestic abuse victim, and cannot otherwise ask for help. The campaign is encouraging victims of both verbal and physical abuse to draw a simple black dot on the palm of their hand as a silent cry for help to people around them.
Image: Black Dot Campaign
The Black Dot Campaign is encouraging domestic abuse victims to wear a black dot as a way to ask others for help
The campaign's Facebook page (opens in new tab), which currently has over 17,000 likes, reads:
'The Black Dot Campaign is to enable victims who can not ask for help verbally to ask for help with a simple black dot and people recognise this and help. This is a campaign to help the most vulnerable victims of Domestic Violence.
They simply draw a black dot on their hands and agencies, family, friends, community centres, doctors, hospitals can recognise this person needs help but can not ask for it.'
Image: Black Dot Campaign
Could the black dot be dangerous for those whose attackers realise what it means?
However, some commenters on the page have pointed out the downsides to the campaign, suggesting that the black spots could be mistaken for beauty marks or, even more dangerously, that their attacker may realise what the black dot is and respond with more violence.
Speaking to Huffington Post, the creator reveals the campaign might not be for everyone: 'This has helped many people already and I thank everyone for their continued support.
'People are talking about domestic abuse, they are sharing my posts and opening up the world's eyes to this issue.
'People are thanking me, we have helped people access services they didn't feel strong enough to access, and we are raising awareness worldwide.'
If you or someone you know is suffering from domestic abuse, contact Refuge (opens in new tab) for advice and help.