The Chase's 'Governess' Ann Hegerty unrecognisable after Loose Women makeover
She looks SO different!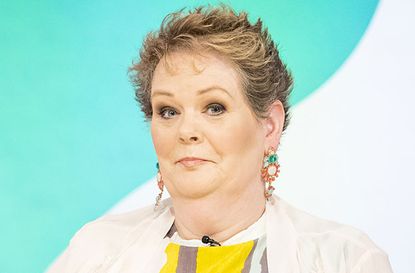 Ann Hegerty - star of The Chase - is one of daytime TV's most stern-looking women, so fans were more than a little shocked to see just how different she looked after a makeover on Loose Women.
'The Governess', as she's known on the popular game show, was given a glamorous makeover by the panel - and fans couldn't wait to express their delight and surprise at her new look!
The 59-year-old Londoner shed her usual slick of red lipstick, ditched the grey suit and revamped her bouffant hair, instead opting for a geometric colourful tunic over jeans, a sheer kimono and statement earrings - with her usual bouffant hair gelled up in a modern style.
It left Loose Women viewers and long-time The Chase fans stunned, with one tweeting: 'What the hell? Is it Halloween? You call that a makeover?'
Many fans took to Twitter to share how much they loved the star's new look!
However, most viewers were delighted with Anne's new look, with one writing: 'I absolutely love Anne Hegerty, makeover or not... end of', with another adding: 'Ahhh you look lovely with makeover but still love your style before!! Xx'
One fan tweeted: 'My secret crush @anne_hegerty looking hot to trot!'
Anne's new look is a far cry from her The Chase 'uniform'
Anne admitted to the Loose Women panel that she didn't miss the suit, saying: 'I love the show, it's been fantastic. But [the suit] is not what I would have chosen to wear.'
During the hour slot, Anne also discussed her life on benefits prior to taking up residence on The Chase, as well as her struggle after being diagnosed with autism (opens in new tab).
Anne was dressed in a colourful top which she wore with a sheer kaftan and skinny jeans
It took two years for Anne to get a diagnosis, which ended up costing her a job in proofreading after she began to underperform in her work.
Anne revealed she went on benefits after two bailiffs arrived within 10 minutes of each other on New Year's Day 2008.
One fan on Twitter commented on her honesty, saying: 'Superb for #thegoverness to share her lives struggles'
What do you think of Anne's makeover? Let us know in the comments box below.