This Secret We're Keeping by Rebecca Done book review
Read our review of Rebecca Done's latest novel This Secret We're Keeping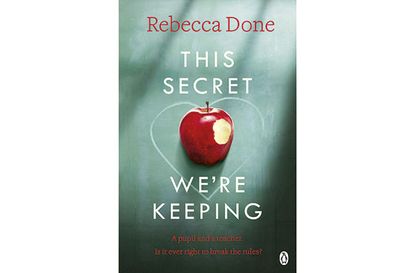 What's This Secret We're Keeping about?
This Secret We're Keeping is a love story with a thought-provoking difference. When 15 year-old Jess falls in love with her Maths teacher, Mr L, she is utterly convinced they're meant to be together forever. But it all falls apart around them, fast forward seventeen years and he's released from prison and in her little village with a new name and family. The chapters flit between then and now as this story takes you along the twists and turns of a forbidden love affair - who gave the couple up all those years ago? Who seduced who? And will they get back together? Turn the pages and find out...
Goodtoknow says...
Ironically This Secret We're Keeping starts straight off the bat with what you would think would be the secret - that a school girl had an affair with her teacher - but that's not it, that was a secret from yesteryear, that is merely the backdrop of the actual big secret, and this really lures you in, seduces you into turning the pages.
The heroine of the story, Jess works as a chef in a small everyone-knows-everyone village of Norfolk where she grew up, she has a hot Dr boyfriend from London who she kinda likes and who spoils her rotten - the man buys her a pair of Louboutins for pete's sake! One day the world as she knows it shatters, old feelings from 17 years ago come flooding back when she recognises the teacher - her first love - Mr L. As the story unfolds and you read Mr L's chapters it makes you question how much of the illegal love affair was his doing, and how much were the pushy actions of a determined teenager. Without a doubt he abused his position of trust, but reading it you get to see it from his point of view. Mr L, Matthew, is now Will and has a new life and identity that no one - not even his family knows about - he even has a daughter. Will he risk all that he has just for another chance of love with Jess? And will the big secret reveal itself? He might, and it does. I'm an arrogant reader and guessed the secret early on - but the story was so well written I still enjoyed it until the end, and the ending is a great twisted cliff hanger.... enjoy!
Rating: 7/10 Publisher: Michael Joseph Paperback Release date: 7th April 2016
Trusted, informative, and empathetic – GoodTo is the ultimate online destination for mums. Established in 2007, our 15-year-strong archive of content includes more than 18,000 articles, 1,500 how-to videos, and 7,000 recipes.