'My husband wants to kill everyone' Tina Malone reveals the strain trolls have on her family
The actress has lost 12 stone in recent years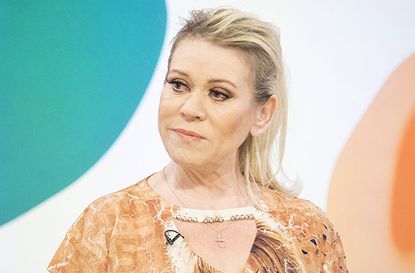 GoodTo newsletter
Sign up to the GoodTo Newsletter. You can unsubscribe at any time. For more information about how to do this, and how we hold your data, please see our privacy policy
Thank you for signing up to . You will receive a verification email shortly.
There was a problem. Please refresh the page and try again.
Tina Malone has opened up on Loose Women about the effect cruel trolls are having on her and her family, admitting 'my husband wants to kill everyone'.
Fighting back tears, the actress told Loose Women hosts Janet Street-Porter and Coleen Nolan that she feels 'disgusted' in herself, finding it difficult to look at the excess skin in bikini photos taken by the paparazzi last week.
Tearfully, Tina revealed how her family feels about the abuse she receives online, 'I go on about these bullies, these trolls, it upsets my family.'
'It upsets my mum, she's 78, she doesn't need it. My husband wants to kill everyone.'
Tina's mum, who was sitting in the audience, admitted that she feels strained mentally because of dealing with the cyber bullying her daughter receives.
Speaking of her weight loss achievement, Tina proudly stated that she has lost 12 and a half stone, but is upset to have come so far to then be held back by her excess skin.
'But when I saw the skin… I've done so well, I've lost 12 and a half stone.
'I'm hard as nails, I've just had ops, no pain killers, I'm a bit of a Trojan, a gobby cow, but I saw those pap shots and all the wrinkles and thought, "How can you get that far?"'
Her Loose Women appearance comes after Tina sent a string of tweets to her 20,900 followers admitting that she had been reduced to tears after bikini pictures of her emerged in the press, prompting a number of vicious remarks about her 'wrinkly skin'.
'I'd just like to say I'm no model,looked,I'm an old girl,54 yrs I'm happy,healthy eradicated my diabetes and high blood pressure,' she wrote.
'But I am horrified by the wrinkly skin on my legs,tummy,back,bum etc in the mirror,mail,men,echo today,,I actually have sobbed tonite.
'But I'm only human, I don't deserve the batterin iv had from people,not the press just nasty comments,its not fair to my hubby,daughters etc
'I take it all and that goes with the job,I'm not blind I know how much skin I need to have removed,I just feel for my family,I cudnt give a rat's arse what people think bout my wrinkly,saggy skin its what I think that counts,it looks awful,so.. watch this space xx'
Tina says that her dramatic weight loss has helped her to overcome a number of health issues, including diabetes (opens in new tab)
Many of Tina's supporters were quick to send her messages of solidarity, with one writing: 'Be proud not ashamed! Body shaming has no place in this world. Shame on the press and trolls. X'
'sod the haters honey. Life's too short. Wear what you like. You're not 18, your body shows the journey you've been through ❤,' another agreed.
It's not the first time that Tina, who is mum to daughters Dannielle, born in 1982, and Flame, who she and husband Paul Chase welcomed in 2013, has hit back at nasty comments (opens in new tab).
In December 2016, after an appearance on This Morning led to more criticism of her new look, she used an interview with Closer magazine to invite the bullies to 'Send me a picture of you and let's see what you look like'.
'for the first time ever i feel i have been wronged,misrepresented and made to sound like a dragon,i may look ugly,like a dragon,old,fat,' she added on Twitter.
'and now some say wrinkly and too thin i can take all the stick for my looks 24 7,iv never been pretty,attractive etc,but bein falsely accused is too much,i am not backtracking,but let me make my point clearly,i WOULD NEVER BODYSHAME A CHILD,OR ANYONE UNDER 18'.