Vitamins and supplements: Is it time to switch your supplements?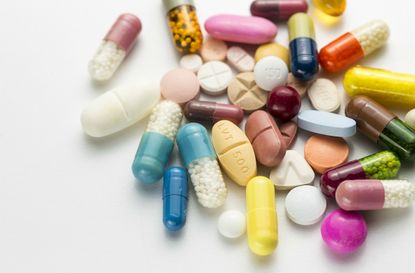 If you've been taking the same ones for years, it could be time to rethink your supplements, including vitamins for skin (opens in new tab), tiredness, and your immune system.
Do you regularly pop a non-prescribed pill or potion? A third of us take vitamins and supplements every day, but your natural daily vitamin dose might not be giving you the boost you need.
'It's a good idea to rethink your vitamins and supplements whenever you experience a change in lifestyle, diet or health symptoms – and your 50s is a key age to do it,' says Dr Sarah Brewer.
Not taking stock could mean you're missing out on potential health benefits. 'New vitamins and supplements are available all the time, which you may consider taking in addition to, or instead of, your current supplements.' Ready for an update? Here our experts offer advice on how to get started.
Is it time to switch your vitamins and supplements?
The following vitamin and supplement swaps could be worth a try to see if you get better results but always check with your GP before starting a new supplement.
Taking vitamin E for skin
Try collagen – it boosts the skin's natural collagen supply, which gets depleted by alcohol and sugar. Care Collagen Beauty Formula (RRP £23.95, Tesco, Asda pharmacies).
Vitamins for tiredness: Swap iron for B6
Iron supplements can have side effects, including constipation and stomachache, so try B6 instead, which can help you to feel energised. Try BioCare Vitasorb B6 (£6.30, biocare.co.uk).
Vitamins for immune system (opens in new tab): Swap vitamin C for vitamin D
'Vitamin D is a hormone produced in the body when your skin is exposed to sunlight,' says Dr Jarvis. 'Therefore, taking a vitamin D supplement in the winter months will help your body build strong bones and boost your immunity.' Try Fultium Daily D3 (£3.99, Boots).
Vitamins for bones and joints: Swap cod liver oil for boswellia and ginger
'Gingerol is a powerful antioxidant, which studies have shown is comparable to ibuprofen. Boswellia could prevent cartilage damage,' says Dr Sarah Jarvis. Try FlexiQule Joint Support (£16.99, lloydspharmacy.com).
Vitamins for bloating: Swap Peppermint for artichoke
'Peppermint oil is excellent for irritable bowel syndrome but, to help stop bloating (opens in new tab), artichoke extract can give quick relief without side effects, especially when due to spicy food or alcohol,' says Dr Brewer. Try A. Vogel Artichoke Drops (£10.50, avogel.co.uk).
Vitamins for menopause
Menopause is a time of change for your body, so switching vitamins and supplements is essential as you go through it. 'Hot flushes and other symptoms? Try NHP Meno Herbal Support (£23.77, naturalhealthpractice.com),' says Helen.
'Post-menopause, take a multivitamin and mineral with good bone support, as women need it once menopause comes to an end.'
Why age matters?
It's vital you pick vitamins and supplements relevant to your life stage – there's no point still taking the ones you did for pregnancy if you're going through the menopause, or chewing on children's gummies just because they taste good. 'Select a multivitamin specifically aimed at people aged 50+ years, because the ability to absorb certain nutrients, such as B vitamins, reduces in later life,' says Dr Brewer.
'Your 50s are a good time to start taking ubiquinol, needed for energy production, as your cells no longer make it in the same quantities.' Try Ubiquinol Max (£35.95, healthspan.co.uk).
Boosting the effectiveness of your herbal remedies could be as simple as changing the form your vitamin and supplement comes in…
● Sprays: These are designed for rapid absorption through the mouth. 'Oral sprays and liquid drops of CBD work more quickly,' says Dr Brewer. 'You may notice a relaxing effect within just a few minutes, while it could be up to an hour for capsules.'
● Gummies: 'Tablets, capsules and gummies all act within a similar time frame,' says Dr Brewer. But gummies can contain 1-2g of sugar per vitamin, so make sure you choose a sugar-free type.
● Capsules: 'As a general rule, capsules are better than pills because the absorption is more efficient than trying to break down a hard tablet,' says nutritionist Helen Ford. 'However, when it comes to vitamin D, it should be in liquid form because it's a fat-soluble vitamin.'
● Effervescents: These dissolving tablets may be easy to drink in a glass of water, but can contain up to a gram of salt, says NHS Choices.
Vitamins and supplements top tip
Did you know? You could be taking the right vitamins and supplements but at the wrong time, when they're not as effective. Breakfast is the best time to take most, except calcium and magnesium, which help to relax the body in the evening.
Are your vitamins and supplements working?
'If the condition is still present or has returned, you may need a different supplement or a different dose (within the guidelines),' says Dr Brewer.
'If you stop taking a multivitamin and your diet is not supplying the key vitamins and minerals, you may slowly become more fatigued (due to lack of B vitamins, magnesium or iron).
You may become more prone to the common cold (lack of vitamin D) or thrush (opens in new tab) (lack of iron).' Best practice is to wait three months. 'If you're taking supplements to correct a deficiency, it's important to test your levels after three months because if they've corrected, supplements could be reduced or stopped,' says Helen.
Senior Health and Lifestyle Writer
Faye M Smith is a Senior Health And Lifestyle writer working across Woman & Home, Feel Good You, Woman's Own and Woman magazine. Having gained an NCTJ postgraduate diploma, Faye has worked for 15 years in journalism, covering a range of lifestyle topics for companies including the BBC, Press Association, News UK and Hachette.