Tattoo artist offers to cover up self harm scars for free
'No one should ever have to feel like a public museum for people to ridicule.'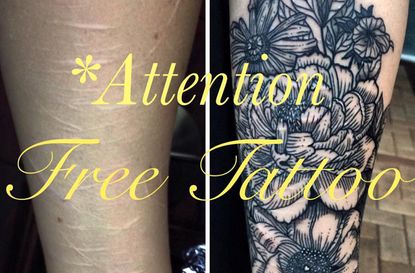 A tattoo artist's social media post has gone viral after she offered her services to cover self harm scars for free.
Apprentice Whitney Develle, 23, from Brisbane, shared an image on her Facebook and Instagram accounts, offering complimentary designs to those who had previously struggled with self injury, and wanted to turn their scars into something beautiful.
The idea for the project came from a friend of Whitney's, who had self harmed while in the grip of an eating disorder.
Whitney wants to help people to 'no longer feel ashamed' of their scars
'She told me how much pain it brought her when people would question her about them or make comments,' Whitney told Australian site 9news.com.au. 'No one should ever have to feel like a public museum for people to ridicule.'
When the friend revealed her scars to Whitney, she suggested a tattoo, and the recipient was delighted with the outcome.
'The look on her face - money can't buy that,' Whitney said. '[Afterwards] people were asking her about her tattoo. The scars became irrelevant - a thing of the past.'
'Society looks [down at people with self-harm scars] and immediately thinks they are unstable or unfit to be amongst the rest of us. I want to change that stigma,' she added.
'They can receive some closure and find confidence again.'
The post offering the free tattoos quickly spread across the internet, and Whitney was overwhelmed by the response. 'I have been up late most nights [since] with a close friend replying to each and every person,' she said.
'The majority of them were too scared to speak with a tattooist out of fear of being judged.'
https://www.facebook.com/photo.php?fbid=526540940886076&set=a.108416509365190.1073741828.100005905239073&type=3&theater
The response to the offer quickly spiralled
Howevever, after the surge of publicity about the offer, Whitney has had to remove the original post and reiterate her kind gesture, explaining that she can only give 50 free sittings (1-2 each week until the end of the year), in addition to discounted tattoos for those who didn't benefit from the gratis ink.
She added that the offer is not for people who are still self harming. 'Please have the courage to talk to a friend or family member about seeking professional help. https://www.beyondblue.org.au/', she wrote alongside.
Trusted, informative, and empathetic – GoodTo is the ultimate online destination for mums. Established in 2007, our 15-year-strong archive of content includes more than 18,000 articles, 1,500 how-to videos, and 7,000 recipes.