Save 66% on Finish dishwasher tablets, with these Amazon Prime Day bargains
Amazon Prime Day Deals offer HUGE savings on premium brand Finish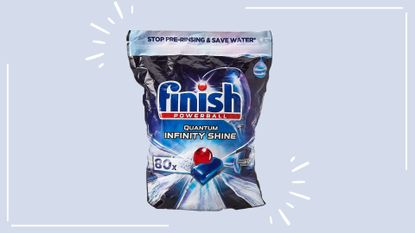 (Image credit: Finish)
Amazon Prime Day deals on Finish Dishwasher tablets is the gift that keeps on giving - well for 80+ washes at least. And then you need to buy more, so bag your bargain now.
Dishwasher tablets is a regular item many of us have to spend on so make the saving now while you can. Plus there are many cleaning hacks with dishwasher tablets (opens in new tab) too, like cleaning your air fryer, grill, even cleaning off toilet stains - they're a worthy investment. And Amazon discounts a lot of Finish dishwasher tablets - with up to 63% off some items - including deep clean and rinse aids to keep you dishwasher clean and in working order.
It's worth noting that Amazon Prime Day is a short affair, and ends tonight Wednesday 13th 2022 at midnight. So take advantage while you can! You have to sign up for Amazon Prime membership; Sign up for a free 30-day Amazon Prime trial here.(opens in new tab) (opens in new tab)
Membership to Prime is free for the first month and then £7.99 a month after the initial 30-day free trial period. You can cancel your Amazon Prime membership anytime. If you don't want to pay for it, you must cancel your membership before the 30 days is up, otherwise, you will be charged.
It's also worth taking the time to install the Amazon app on your phone so that you can keep track of lightning deals throughout the two-day shopping event as Prime Days are short flash sales that end after a limited period of time.
Amazon Prime Day Deals: Finish Dishwasher tablets
Other great Amazon Prime Day cleaning product deals
Stephanie Lowe is Family Editor at GoodTo covering all things parenting, pregnancy and more. She has over 13 years' experience as a digital journalist with a wealth of knowledge and experience when it comes to all things family and lifestyle. Stephanie lives in Kent with her husband and son, Ted. With his love of choo-choos, Hey Duggee and finger painting he keeps her on her toes.