1 in 3 mums let underage kids join social networking sites
It seems mums aren't sticking to the rules when it comes to their children's use of social media. Read our surprising survey results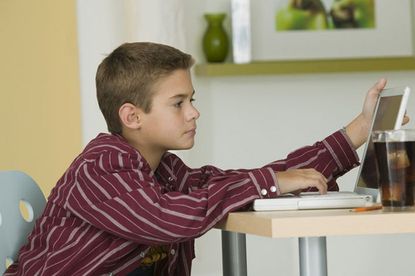 Worrying about your children comes with the territory of being a parent. But are our attitudes to what we'll let our children do changing? We asked mums at what age they would let their children do certain things and there were some surprising results.
Ten is the age that most mums think appropriate for a child to have their own tablet or computer, with 11 and 8 following close behind. Over a third would allow a child under the age of 9 to have their own tablet or computer.
Incredibly, 37.3% of mums would let their child use a social networking site from aged 12 and under. But did you know that by letting a child create a social media account at that age is probably violating the site's terms and conditions? Facebook's minimum age for an account-holder is 13 and it can immediately delete an account if it's reported that an account-owner is actually under-age. MySpace's minimum age is 14, Tumblr 13, Instagram 13 and SnapChat 13. Only Twitter doesn't have an age restriction.
We spoke to Tessy Ojo, CEO at the Diana Award, which runs the Anti-Bullying Ambassador Programmes, who had this to say about our survey findings: 'At the Diana Award, we do not support the use of social media by underage children, same as we would not support driving under the legal age. We are, however, aware that there is an incredible amount of pressure on young people to use social media and therefore not surprised by the rise in numbers of children aged 10-12 using these platforms.
'It is therefore very important for parents to ensure that they keep their children safe online and not simply ignore it. In our parent sessions, we say to parents, treat the online world exactly as you would behave offline. As an example, you would not give your child a car as a present, without ensuring they have learnt to drive and understand the rules of driving. This same principle should be applied online.'
Here are some useful tips for parents on keeping their children safe online:
Place your computer in a central, open location, like the living room, so you can supervise your child/ren's use of the internet - you can turn off the wi-fi when you can't supervise them also.


Look into software or online services that filter out offensive material. Check with your Internet service provider (ISP) for any blocking features they might offer.


Create a family agreement between all family members for internet use, including hours of use, which sites can be accessed and which ones shouldn't be.


Educate your children to never give out identifying information about any family member or themselves. This includes: names, addresses, phone numbers, e-mail addresses, passwords or bank card numbers.


Make yourself familiar with Facebook, Twitter etc. so you can understand the virtual world and talk about it more easily with your child/ren


Educate your child on how to behave online, how to spot inappropriate behaviour and what to do if it happens.
Are you surprised by this? Do you think the age limit should be lifted, or that parents shouldn't allow their children to sign up before they're 13? Is it OK for 10-year-olds to be on Facebook as long as parents can supervise them and their privacy settings are robust? Let us know what you think in the comments area below.
Where to next? Online bullies told me to kill myself - a 16-year-old's story Internet safety tips for kids by kids How to keep kids safe online