Read these 7 clever Internet safety tips - written for kids, by kids!
We've been chatting to some school kids to get the internet safety tips they'd have for other kids online...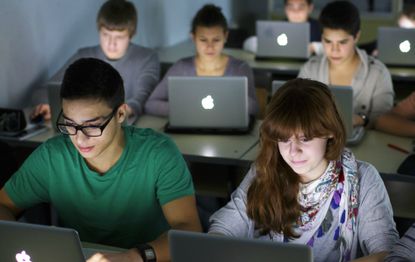 Internet safety is such a worry for us parents, and even more so as it's just not something that we had to contend with in our day.
Thinking about the risks our kids could be exposed to on the internet can cause some serious anxiety, and trying to create our own guidelines and internet safety tips can be overwhelming.
Who could they be talking to? Are their social network friends actually 'friends' at all? Could they be targeted by bullies online? What material are they looking at?
We've already offered advice given to parents by Instagram to help ensure their child's internet safety, and now we bring you internet safety tips from an entirely different source - the kids themselves!
Reading through these clever internet safety tips offered up by school kids will help provide you with a clearer vision as to how you can guide your child through the complex black hole that is the World Wide Web, and may also give you a bit of faith in your child's ability to recognise potentially dangerous internet activity.
In line with this year's upcoming Internet Safety Day (5 February 2019), we've been chatting to some school kids to see what they understand about internet safety and getting them to share their internet safety tips for other kids online.
Here's what they had to say...
Internet safety tips
'If somebody is being bullied or if strangers are talking to them, I would advise them to delete their social networking account so it could no longer carry on. If it does they should go to the Police or tell an adult.' Erin, Year 9, The Barlow RC High School
'My advice on staying safe whilst using the internet would be to make sure your account is set on private and if someone tries to talk to you that you don't know - ignore and block/report them.' Ricca, Year 9, The Barlow RC High School
'If you are being bullied on the internet - tell someone. Tell your Parents, Friends or Teachers. If you don't want to do that then try to ignore them but always try and tell someone.' Alexandra, Year 9, The Barlow RC High School
'To be safe on the internet: don't talk to people you don't know, keep your privacy on friends only, don't click on things you don't know, if you don't want to be trolled try to understand what you are doing before doing it.' Alfie, Year 9, The Barlow RC High School
'Delete any people who are causing the problems and tell someone immediately.' Myles, Year 9, The Barlow RC High School
'If on social media websites always set your account to private and do not accept or add strangers.' Chantelle, Year 9, The Barlow RC High School
'If a random person adds you on Facebook don't accept. And don't reply to anyone you don't know who messages you privately either, if anyone does that, tell your mum. Also don't have your date of birth or private details on your profile.' Isabel, age 9, Ranby School House
Gemma Chandler is a lifestyle writer specialising in kids' educational media across a range of topics including nature, history, science and geography across digital, print, social media and video channels. She joined Creature & Co. at 2015, shortly becoming Digital Editor of National Geographic Kids magazine.