19 Kids And Counting's Sue Radford reveals the gender of her 20th baby
The family have announced they're having a little boy!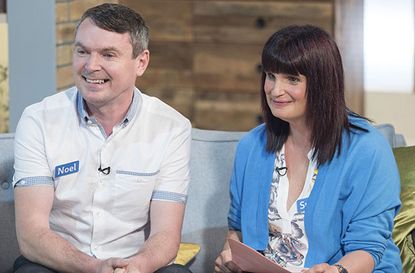 GoodTo newsletter
Sign up to the GoodTo Newsletter. You can unsubscribe at any time. For more information about how to do this, and how we hold your data, please see our privacy policy
Thank you for signing up to . You will receive a verification email shortly.
There was a problem. Please refresh the page and try again.
Sue Radford, mum to the UK's biggest family, has revealed she is having a baby boy in the sweetest way.
The star of Channel 4 show, 19 Kids And Counting, took to Facebook to post a video showing the gender reveal of her unborn child in an epic surprise for the rest of the family.
In a video posted to the family's Facebook page, Sue can be seen standing in front of part of her brood in their living room.
The mum announced to nine of her children, all sitting patiently on the floor, that they are about to guess whether their new sibling will be a boy or girl.
Squealing with excitement, the brothers and sisters start raising their hands to vote for which gender they think the new baby will be.
Sue passes round a wrapped up teddy bear, and upon opening it the family can see from the cute blue toy that they will be gaining a little brother.
Fans have been delighted by the news which will see the Radford's, who have nine daughters, welcoming an 11th son, with many commenting on the post with congratulations.
One fan wrote, 'Congratulations to you all on having a baby boy another beautiful child to spoil your family are all so beautiful love watching the tv program you look fabulous with baby number 20 thank you for sharing with us x'.
And another added, 'Congratulations to you all. I love following your family. I have 2 children and I'm permanently tired haha. I don't know how you do it 💙'.
Sue originally took to Instagram to share the delightful news with the family's 17k followers that they are having their 20th baby.
Posting to 'The Radford Family' account, the mum-of-19 shared a sweet snap of a home made announcement confirming that herself and husband Noel are set to become parents for the 20th time.
The family chose to show their announcement on a chalk board which they had drawn on and decorated themselves, writing up a tally that showed how many boys and girls the family currently has.
At the moment Sue and Noel have 10 sons and nine daughters, but have not revealed what the gender of their next child will be.
However, they did reveal that their bundle of joy will be arriving in September 2017, just in time for Autumn.
Next to the adorable picture, the family included an emoji based caption that showed how happy they are to be expanding their brood.
Featuring rainbows and hearts the caption read, '💕💙🌈😁X'.
The post has already gained a lot of attention, being liked nearly 4k times in less than 24 hours and gaining hundreds of comments.
Fans rushed to offer congratulations and support to the Channel 4 favourites, writing comments such as, 'You lot are bloody amazing!!! Congratulations xxx Another girl to even out the numbers 😉 💗 xxx'
Another Instagram user commented on how well Sue is doing after having gone through pregnancy and all the symptoms (opens in new tab) that come along with it so many times, 'I just love this! I fear my body would fall apart with that many pregnancies and births but you were clearly born to do this. Congratulations xxx'
A third follower added, 'Congratulations number 20 is on the way 💙🎀'.
Some even hoped that having another baby would secure the family some more air time, with one fan writing, 'Awwww can't wait, hope there's another documentary coming in the future'.
Congratulations to Sue and Noel!