Angelina Jolie opens up about health complications following split from Brad Pitt
'Sometimes women in families put themselves last until it manifests in their own health'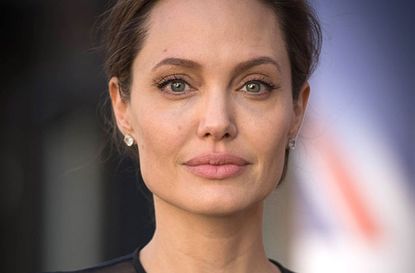 GoodTo newsletter
Sign up to the GoodTo Newsletter. You can unsubscribe at any time. For more information about how to do this, and how we hold your data, please see our privacy policy
Thank you for signing up to . You will receive a verification email shortly.
There was a problem. Please refresh the page and try again.
Angelina Jolie has opened up about her difficult year in a revealing interview with Vanity Fair magazine.
In an interview that will feature in the September print issue, Angelina has spoken candidly about how her family is working on recovering from her painful divorce from Brad Pitt, and also how the shock has affected her physical health.
Married for two years but a couple for 13, Angelina and Brad went through a very public split (opens in new tab) in 2016. They have six children together, three of whom were adopted, and three of whom are their biological children.
In 2014, after being diagnosed as being at high risk of female cancers, Angelina underwent major surgeries to have her ovaries removed.
A year on from the divorce, Angelina insists she's always put her children first and that they're coping 'as a family'.
'I actually feel more of a woman because I feel like I'm being smart about my choices, and I'm putting my family first,' said the star. 'I'm in charge of my life and my health. I think that's what makes a woman complete.'
She also revealed that he health had deteriorated possibly as a result of the stress, developing Bell's Palsy, a condition which causes temporary weakness or paralysis in the muscles of one side of the face.
'Sometimes women in families put themselves last until it manifests in their own health. I can't tell if it's menopause or it's just been the year I've had.'
Despite reluctance to give details on the split or why it happened, Angelina was quick to gush about how well her children had been dealing with the 'hardest time'.
'[Our lifestyle] was not in any way a negative. That was not the problem. That is and will remain one of the wonderful opportunities we are able to give our children…They're six very strong-minded, thoughtful, worldly individuals. I'm very proud of them,' she said.
'We're all just healing from the events that led to the filing. They're not healing from the divorce. They're healing from some…from life, from things in life.'
One thing about her relationship she did divulge was that the family was the main priority for both of them.
'We care for each other and care about our family. We are both working towards the same goal.'