We earn a commission for products purchased through some links in this article.
Oscar-winning actress Anne Hathaway is reportedly expecting her first child with husband Adam Shulman.
She may have played the mum role a few times on the big screen but it seems like it will be for real this time.
According to E! News, 33-year-old Anne is around five months pregnant with her first child with producer husband Adam Shulman, who will also become a dad for the first time.
A source told the channel that Anne is in her second trimester and 'feeling great', but speculation about her pregnancy started back in September, at the premiere of her latest film The Intern.
Wearing a glamorous black dress, the actress seemed to show the first signs of a baby bump. More recently, the 'Devil Wears Prada' star was spotted with a visibly bigger baby bump in Beverly Hills.
Anne showing what looks like a small baby bump at the The Intern premiere in September 2015
The happy couple got married in September 2012, after dating for four years. The actress previously dated Italian businessman Raffaello Follieri for four years, but the relationship ended in 2008.
Anne has been very open about her wish to become a mum, saying she was 'looking forward' to having children with her 34-year-old husband earlier this year.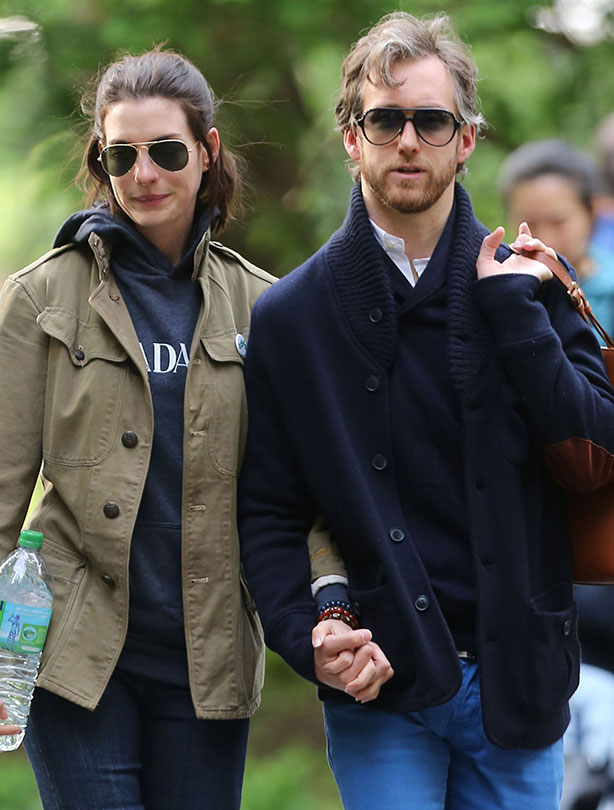 Anne and husband Adam Shulman in New York
Speaking to the Telegraph last year, she said: 'I'll start with one healthy kid but I'd like to have a few naturally and adopt. I gotta get on it, you know? I'd like to have as many as I can afford, not just financially but in terms of times, because you want to make sure each one feels special.'
The successful actress, who was named one of the world's 50 Most Beautiful People in 2006, also talked about how her priorities are changing as she gets older.
'I've had one goal in my mind for the past 12 years, which is: get a movie, get a movie, get a movie. Now I might have to say: get a baby, get a baby, get a baby,' Anne said.
In 2013, the actress also told Vogue she can't wait to meet her children: 'Oh, my God. I want to be a mother, and I anticipate loving my children quite fiercely. I think about it all the time, though it's a silly thing to think about because the kind of mother I'll be depends on the kind of children I have. I can't wait to meet them' – aaw!
However, the happy news might interfere with Anne's professional commitments, as she was due to play Mary Poppins in the new remake of the children's favourite.
As much as we'd love to see her play the best nanny of all times, we also can't wait to see her play mummy – congratulations Anne!