Antony Costa on why every parent should know first aid: 'I thought I was going to lose my baby'
Antony Costa has spoken about experiencing every parents' nightmare when his eight-month-old baby daughter suddenly had a fit...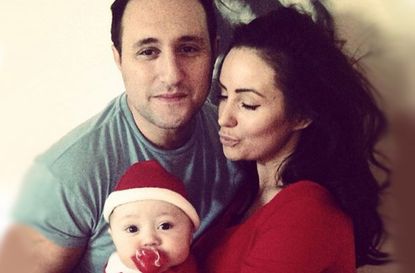 GoodTo newsletter
Sign up to the GoodTo Newsletter. You can unsubscribe at any time. For more information about how to do this, and how we hold your data, please see our privacy policy
Thank you for signing up to . You will receive a verification email shortly.
There was a problem. Please refresh the page and try again.
The Big Reunion star Antony Costa has spoken about the terrifying moment when his eight-month-old baby daughter suffered a fit, in a bid to encourage parents to learn basic first aid (opens in new tab).
Writing for The Mirror, the 33-year-old former Blue singer relived the awful ordeal, and spoke of how his baby went stiff and her lips turned blue while the couple were checking out the venue they've chosen for their wedding.
'Suddenly Rosanna noticed Savannah's head had tilted and her eyes were rolling back. In a second, she started shaking and going stiff in Rosanna's arms. Then her lips turned blue.
'We didn't know what was happening. We really thought she was dying.'
Savannah, who was born last summer, is Antony's second child. He is also dad to 10-year-old Emilie from a previous relationship.
Instagram/antonycosta (opens in new tab)
The proud dad explained how helpless he felt in those moments when he and his fiancée, Rosanna, just didn't know what to do. He said:
'It was one of the scariest moments of my life. We really thought we were losing her.'
Just a few days prior, the couple had been to the Tesco Mum of the Year Awards where they had watched an amazing video which showed how a mum had resuscitated her baby.
'Rosanna was going to do mouth-to-mouth resuscitation on her but then a woman came rushing towards us, and it turned out she was a doctor. She told us not to do mouth-to-mouth because Savannah was still breathing.
'It sounds obvious now, but when you're there in the moment it's very different.'
Antony has spoken about his determination to complete a course in basic first aid after the ordeal
Instagram/antonycosta
After paramedics arrived and rushed little Savannah to hospital, they diagnosed the symptoms as a febrile convulsion, which is a type of fit associated with a high fever. The fit can occur in children from as young as six months to five years, and usually last less than 15 minutes.
Savannah has made a full recovery, but Antony said he and Rosanna are finding it hard to stop checking on her every five minutes. They now carry a thermometer on them at all times 'so we can keep an eye on her temperature.'
Since the terrifying incident, Antony has vowed to complete a course in basic first aid and is encouraging other parents to do the same:
'When you have a baby, you are taught how to feed it, how to change a nappy and things like that, but they don't teach you what to do in an emergency.'
Would YOU know what to with your child in an emergency? Find help on administering first aid on babies and children in our basic first aid articles, from chocking to CPR to electric shocks, below.
Gemma Chandler is a lifestyle writer specialising in kids' educational media across a range of topics including nature, history, science and geography across digital, print, social media and video channels. She joined Creature & Co. at 2015, shortly becoming Digital Editor of National Geographic Kids magazine.