How to baby-proof your home
Your home is full of so many potential hazards for babies to encounter. Find out how to safe-proof them from two safety experts.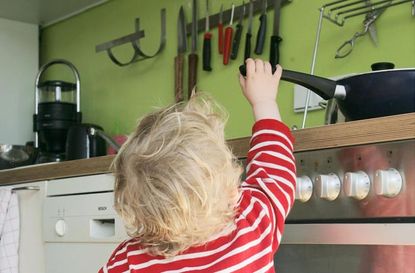 As a mum-to-be or new mum, your head is no doubt full of all sorts of worries about how you're going to keep your new baby safe and well, and how on earth you're going to know what to do. One thing we know is that baby-proofing your home is not something you want to be stressing about!
It's true that your home is full of a fair few potential hazards for babies to encounter, but we've got some simple steps from two safety experts about how to make it a safe place for you and baby.
The Experts
Ann-Marie Ciccini carries out 'baby-proofing' surveys and fits safety equipment. Helen Richardson, training officer at the Child Accident Prevention Trust, an independent charity and authority on the prevention of accidents to children.
Baby-proofing the downstairs rooms...
The kitchen
Ann-Marie says: *Make the kitchen a baby-free zone by fitting a gate. Alternatively: *Fit magnetic locks on lower cupboards. These work with a key that you keep out of reach. *Buy a cordless kettle with a curly flex, which is ideal. *Cover the corners with quality foam. *Fit a hob guard on the front of the cooker. *Wooden floors can cause skids. Dress toddlers in non-slip socks.
Helen says: *Instead of locks, move dangerous items to high cupboards. *Use the back plates of hobs. *Turn the hot water thermostat down to 54 C so the hot tap won't scald if accidentally turned on.
The living/dining room
This is where the largest number of home accidents happen.
Ann-Marie says: *Fit locks on sash windows so they can only open for ventilation. *Fit socket covers on every plug. Around £2.49 each. *Use individual thermostats on radiatorsso they don't get too hot.
Helen says: *Never leave toys or chairs in front of windows. Children might use them to try to climb out.
Tip: The biggest danger in this room is scalding from hot drinks. There aren't any products that will help - it's your behaviour that has to change. Always put drinks only on a mantelpiece or high shelf and keep doing this until children are at least five years old.
Baby-proofing the upstairs rooms...
A toddlers' room
Ann-Marie says:
*Protect them from corners of skirting boards with Velcro pads. *Use a door protector on the door if it's to be left ajar, to prevent trapping. *Use a stairgate. At night, it means they can't wander along into other rooms.
Helen says: *Check toys they receive as presents. They could really be an 'adult' cuddly toy. Many toys say they're for children over 36 months only.
Tip: Keep keys by window locks. If fitting bars, make sure that there's another exit from your home.
Your bedroom
Ann-Marie says: *Move lamps out of toddler range and tape fittings to prevent unscrewing. *Make your bedroom a no-go area. At night, go to their room rather than bring them into yours.
Helen says: *Check carefully for any hazards. Children may run into your bedroom in the morning before you're awake. *Lock any tablets away. *Hair straighteners are now one of the most common causes of childhood burns in the home, make sure they're wrapped tightly in a heat-proof cover and use them in a place that's out of reach to kids.
Tip:: More things are dangerous than you might think. Iron tablets and contraceptive pills can kill. Mouthwashes and perfume are also hazards.
The bathroom
Babies and small children can drown in 3cm of water. Never leave them alone in the bath.
Ann-Marie says: *Fit foam surrounds to any sharp edges on your bath. *Use a large non-slip bath mat. *Use a special safety device to tie away blind cords.
Helen says: *There's no such thing as child-proof, only child-resistant. Given enough time, most can open anything. So buy yourself more time. Put medicines in an old ice-cream tub. Toddlers have to undo this before they can open any bottles. *To save money, simply knot blind cords out of reach.
Tip: To run the bath, use cold then hot to avoid scalds. Then pour cold water over the hot tap to cool it instantly.
Where to next?
- Should I have my baby in bed with me?
- More on babies