The benefits of cow's milk
Different types of milk claim to have different beneficial effects on small children.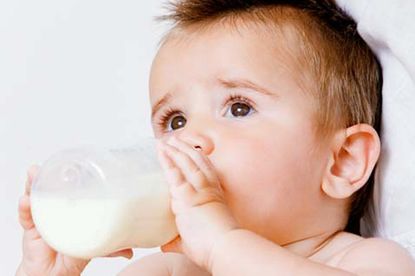 Lots of people talk about the benefits of whole milk for young children. It's a good natural source of vitamins A and D and calcium for healthy bones. But did you know that it can also contain bits of plants and fish oil? Milk producers feed their cows a special diet or add more ingredients to give extra health benefits. And it seems that there's now a milk for every occasion:
* St Ivel Advance has added omega-3 oil that claims to boost brain power. It's normally found in oily fish such as mackerel. You'd have to drink a lot of it to get the recommended daily allowance, though, so it might be worth trying to get your little one hooked on sardines instead.
* Night-time milk might be of interest to parents with light sleepers. It claims to have higher levels of melatonin, a hormone that helps regulate the body clock. However, it only comes in semi-skimmed, which isn't recommended for under-5s.
* Filtered milk, such as Cravendale. doesn't have extra ingredients, but is prepared in such a way that it keeps longer in the fridge. This is handy if your child gets milk elsewhere, such as nursery, which may mean there's lots left over at home by the use-by date.
* Organic milk has nothing particular added to it, but producers claim that because their cows eat grass with no chemicals and work on a 'quality not quantity' philosophy, their milk is better quality with a higher level of nutrients. Brands such as Duchy Originals and Rachel's Organic, as well as supermarket own labels, are widely available.
* Special breed milk such as Jersey and Guernsey cows' milk is very creamy and slightly fattier than basic whole milk. It's also quite high in betacarotene, which is found in many vegetables, notably carrots. However, your little one would get a lot more of this mineral if he ate a carrot!
* Goats' and low-lactose milk are more readily available now and can be used for children over the age of 1. But be wary of giving them to those who are lactose-intolerant, as all animal milk, not just cows' milk, contains lactose.
Trusted, informative, and empathetic – GoodTo is the ultimate online destination for mums. Established in 2007, our 15-year-strong archive of content includes more than 18,000 articles, 1,500 how-to videos, and 7,000 recipes.