We earn a commission for products purchased through some links in this article.
Meeting family members can be overwhelming enough at 10 months old. There's loads of them, they're noisy, and they ALL want to give you a cuddle and pinch your cheeks – and frankly, it's enough to baffle even the smartest of little ones.
However, other babies should spare a thought for Felix, this sweet little chap who was born in Lithuania, but is visiting family in Montreal, Canada, because he hasn't just got any old auntie's face to remember. You see, Felix's mum is a twin, and he's about to meet his identical auntie for the very first time. Talk about confusing!
The clip starts with a voice from behind the camera, saying 'Okay, make it happen!', and filming him being brought out into the corridor to see his aunt Steph for the first time EVER. As you can see, initially, he's not quite sure what to make of her:
He touches her face and then looks back and forth, back and forth, looking at his mum, and his auntie again! But luckily, aunt Steph takes it all in her stride: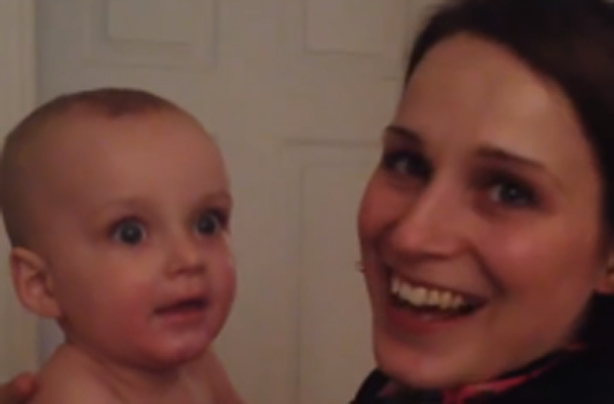 'Ah, no, it's just my mom,' she quips, saying what Felix is almost definitely thinking.
'Why did you bring another of my mom? That's weird!' the lady behind the camera laughs.
Watch: Felix's adorable reaction in full
Since Felix's parents posted the video online, the clip has been watched by more than 1,200,000 people around the world, and it's still growing!
'Hilarious! Great job having the camera ready,' one commenter wrote, whilst another joked 'In the baby's mind (Operation: Cloning Mom was a Success!)'
Bless you, Felix – don't worry, we're sure any other babies would be just as disorientated in your situation!
Are you a twin who has played a similar trick on your kids? Or are there twins in your family who confuse everyone, every time? Share your comments and videos on our Facebook page – we'd love to hear your stories!