Toddler portion sizes and baby portion sizes guide
Everything you need to know on feeding your little bundle of joy a healthy, balanced diet.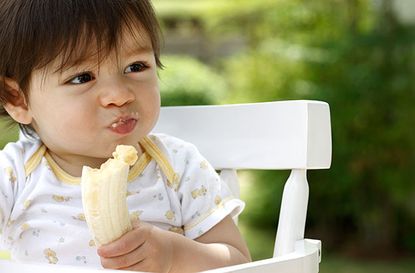 Becoming a parent can feel a bit overwhelming - all of a sudden you're responsible for looking after this tiny human and making sure they eat the right amount of the right food at the right time.
Getting hold of information on baby portion sizes and toddler portion sizes can be a bit tricky, but that's why we've made a handy guide, collating information from the NHS and First Steps Nutrition Trust to help you out.
Past studies have pointed towards parents in the UK overfeeding their children. A report by The University College London in 2016 found that children between four and 18 months were being given much bigger portion sizes than needed, meaning that lots of little ones were suffering from symptoms of obesity at a young age.
Eating a healthy, balanced diet in the right portion sizes is essential to your child's development, so if you're feeling a little confused, don't worry! Just take a look at our handy outline and you'll be cooking up a nutritional storm in no time!
When should I start feeding my baby?
For the first six months of your baby's life they should only be drinking preferably breast milk, or if you are unable or choose not to breastfeed (opens in new tab), bottle feeding (opens in new tab) with formula.
Breast milk is perfectly created with all the right nutrition to feed and hydrate your baby, they don't even need to try water until six months, or longer if you wish to keep breastfeeding.
There are some signs that will indicate your little one is ready to start taking on solids such as they are able to sit up properly and support their head on their own, they can use hand eye coordination to pick up food and put it in their mouth and they can actually swallow their food instead of just pushing it around their mouth with their tongue.
Other behaviours that sometimes trick parents into thinking their little ones are ready for food are increased cravings for milk, fist chewing and walking or waking up in the night. These are actually normal baby development (opens in new tab) behaviours and don't point towards being ready for food.
Starting on solid foods
To start off with you don't need to worry about specific portion sizes for your baby, introducing them to solid food is more about experimentation and exploration.
Begin by giving them very soft, mashable foods such as mashed potatoes, banana, soft cooked vegetables and fruits or baby cereal.
Let your child touch and play with the food to get used to the texture and encourage them to feed themselves, whether this is with their fingers or with a spoon. Make sure you stay with your baby at all times whilst they try to eat as they could choke.
Be careful not to force your baby into eating, the concept will seem a little strange to them at first and you don't want them to get a negative association with it. If they don't seem interested the first time you try to feed them, leave them to it and try again next time.
Baby food portions: Six to eight months
Between six to eight months your baby is just testing out solids and getting a hang of this whole eating thing.
Finger foods
Finger foods or pieces, chunks or slices of food, usually around the size of your own finger that your baby can grab in their fist with a little bit sticking out for them to nibble on. Soft but sliceable foods like banana and avocado work really well.
Next foods
Once your little one has mastered finger foods they can start eating soft versions of normal foods. Try soft cooked meat such as chicken, mashed fish (with no bones!), toast, soft pasta, hard boiled eggs etc.
Baby food portions: Eight to 12 months
Of course every baby is different, but at around the eight-month mark your bundle of joy should start moving towards the practise of having three meals a day. You should be feeding them a mixture of food groups including protein, dairy, carbs and of course lots of fruit and vegetables.
Toddler food portions: One to four years
After reaching the one year mark, your little one should be ready to try all foods, drinking cows' milk and be eating in a more adult-like style.
Eating healthily and correctly in the first five years of a child's life is crucially important to their development. The First Steps Nutrition Trust have created a portion size guideline for children aged one to four, which is available from the NHS website.
Of course it's worth bearing in mind that some children may use more energy than others, have a faster metabolism and may want more or less food - this is okay and it's to be remembered that these portion sizes are a guideline.
Carbohydrates Carbohydrates such as breads, pasta and cereals should make up about a third of your child's daily intake of food. Recommended portion sizes per serving for some of the most commonly used foods are one slice of white toast, half a pitta bread, 80g for all pasta and rice and between 15-20g for cereals.
Vegetables and fruit At this age, children should be encouraged to try at least five different fruits and vegetables a day in 40g portion sizes.
To give you a guideline, half a banana is 40g, as is one slice or melon or six grapes.
Dairy You should offer your toddler foods from this group, including milk, at two to three meals or snacks every day.
It is suggested that one to two year olds drink about 400ml of cows' milk a day and this can fit into whatever eating pattern works best for your family, usually children will drink milk before they take a nap or before bed.
For children between the ages of two and four years old you can decrease this amount by 50-100 ml a day as they will eat bigger portion sizes and take less naps, therefore not having to be soothed to sleep with milk.
When serving cheese to your little one, generally speaking between 15-18g per serving is correct and for yogurt you want to be dishing up between 50-60g.
Proteins Proteins including meat, fish, eggs, nuts, pulses and seeds are all very important for a child's development and every main meal should contain something from this food group.
When serving meats such as chicken and pork in a main meal you should stick to around 40g per portion, and the same for fish.
Whether your making boiled, poached, scrambled or fried eggs, one should be enough which adds up to about 50g. This is also the case for omelettes.
Pulses such as beans, lentils, falafels and dahl should be served in 40g portions.
For nuts, including nut butters, you should stick with 15g portion sizes.
Trusted, informative, and empathetic – GoodTo is the ultimate online destination for mums. Established in 2007, our 15-year-strong archive of content includes more than 18,000 articles, 1,500 how-to videos, and 7,000 recipes.