Ben Fogle talks candidly about how he'll mark the first anniversary of his son's stillbirth
'I felt helpless. I had lost my unborn son and didn't know whether Marina would live or die'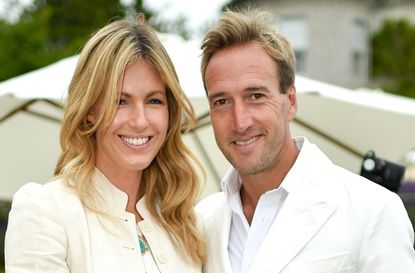 With the first anniversary of Ben Fogle and wife Marina's tragic stillbirth this week, the TV presenter has spoken out about how the family have managed to heal.
The couple, who are parents to two children, Ludo, five, and Iona, four, will mark the anniversary of the birth and death of their son - named Willem - at a church service in Oxfordshire at the end of August, with the priest who married them.
'I felt helpless. I had lost my unborn son and didn't know whether Marina would live or die.'
Recalling the moment he got the devastating call, Ben told The Mirror:
'I was over in Canada for my grandmother's 100th and had to get on a plane and come back and was effectively told that Marina would die.
Ben and Marina will remember their son in a church service in Oxfordshire this month with the priest who married them
'That was the worst part about it, the helplessness and not knowing when the plane landed whether Marina would be alive or not.'
He also admitted how deeply the experience affected him in the months following the stillbirth:
'Knowing already I had lost my unborn son and not knowing how she would be... that definitely affected me deeply for six months.
'It's painful in a way you can't understand'
'I couldn't be around people, I didn't want to be social. I became uber-controlling, I just wanted to control everything around me because that was something I had no control over.
'It probably was elements of depression but you get through it, you work through it.'
Ben and Marina are also parents to Ludo, five, and Iona, four.
Due to complications towards the end of her pregnancy, Marina suffered an acute placental abruption in August 2014, which caused her unborn baby to be starved of oxygen and left her just 20 minutes away from death herself.
Speaking to Ruth Langsford and Eamonn Holmes on This Morning back in July, he said:
'We lost him at eight months or so, it's incredibly painful because of that very reason - it's someone you nearly met, you dreamed of meeting, you projected what your family would be like, you projected the three children together, you did the nursery, you'd told the children.
He described the time as 'painful in a way that unless you've been through it yourself, you can't understand.'
Ben has expressed his wish to share his experience with others.
'I think if you're in the public eye like I am... I'm not only going to show the golden moments of [my life] because we all suffer highs and lows.'
At the time a spokesperson for the couple released this statement:
'Tragically Marina and Ben Fogle have lost their precious baby at 32 weeks gestation. Marina is still in hospital.
'They are obviously devastated and would appreciate their privacy at this terrible time. They thank you for your understanding.'
The couple previously experienced a miscarriage at 12 weeks back in 2008, the year before they welcomed their eldest child, Ludo.
Ben met Marina while walking his beloved black Labrador Retriever, Inca, in London's Hyde Park, and they married in 2006.
The couple seem incredibly strong and we commend them for speaking out about such a devastating time in their lives. May the future be full of happiness for you both.
Gemma Chandler is a lifestyle writer specialising in kids' educational media across a range of topics including nature, history, science and geography across digital, print, social media and video channels. She joined Creature & Co. at 2015, shortly becoming Digital Editor of National Geographic Kids magazine.