Family adventure holidays: The best adventure holiday destinations for your family
Looking for fun family adventure holidays? We've rounded up the most exciting- and cheapest - family holiday destinations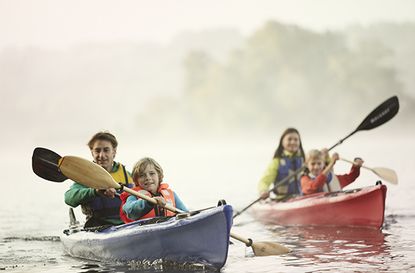 (Image credit: Getty Images)
If lying on a beach or going shopping doesn't quite do it for you, then we've rounded up the best family adventure holidays. Whether you're a water sports fanatic, an intrepid temple explorer, or you've got a budding zoologist in the family, there's something for every thrill-chaser here!
Family adventure holidays in the UK
White-water rafting in Wales
Thanks to Wales' naturally fast-flowing rivers, it's got several locations which are perfect for white-water activities. The National White Water Rafting Centre (opens in new tab) on the River Tryweryn promises thrilling but safe rides.
Those after a more calming water ride can visit Cardigan Bay Active for rafting, kayaking and paddleboarding, where the water is less intense.
Survival skills with Bear Grylls
Bear Grylls is famed for his survival skills, and has opened a five-day Survival Academy (opens in new tab) course on a 'remote' island in the Scottish Highlands, a 24-Hour Family course for parents and kids, and a children-only survival day over the school holidays in multiple locations across the UK.
The family adventure holidays courses take place across water, woodland and heaths, and include fire-building lessons, knife survival, foraging for grubs and rodents, shelter-building and river and lake crossing. Locations include Dartmoor, South Downs and Brecon Beacons.
Book your survival skills course with Bear Grylls
Horse riding in Ireland
The beauty of Ireland's countryside is a whole new experience on horseback. Horse Holiday Farm (opens in new tab) in County Sligo offers family holidays with self-leading trails and lessons for intermediate riders and above. True horse lovers will get to do their favourite activity past antique houses, mountains, waterfalls, lakes and along beaches - and along the historical Yeats Trail in land associated with the famed poet.
Book your holiday to Ireland with LastMinute.com
Zip-wiring in Wales and Scotland
The northern region of Wales is perfect for family adventure holidays, as it hosts Zipworld (opens in new tab), with Europe's longest and the world's fastest zip line (Velocity), and an underground zip-line and rope bridges through caverns (Zip World Cavern) - perfect for anyone seeking fast thrills! Fun is also to be had in Scotland's Big Tree Country, with 50 acres of room for zip-wiring, tree-climbing, canoeing, rock-climbing and abseiling - plus an indoor sports zone if it's pouring outside. Zip-wiring and tree courses are also available throughout the UK thanks to Go Ape.
Book your holiday to Scotland with LastMinute.com
Family adventure holidays in Europe
Sea kayaking in Croatia
The tiny fishing village of Novigrad Bay is perfect for smooth and calm kayaking. If that's not enough for you, then Activities Abroad (opens in new tab) offers a 7-day Adventure in the Crotian Adriatic package, including Novigrad, white water rafting in the Cetina River, a safari canoe down the Zrmanja, and hiking and cycling excursions - plus a free day in the middle to stop and rest on one of Croatia's beautiful beaches.
Snorkelling with dolphins in the Azores
Just a 3.5 hour trip from the UK, the Azores islands have a whole range of outdoor adventure activities. Snorkelling with dolphins, whale watching, kayaking, and exploring volcanoes, there's plenty to do - perfect for family adventure holidays. The Lava Lands and Dolphin Swimming in the Azores package trip from Activities Abroad (opens in new tab) includes flights to São Miguel, accommodation, most meals and all the activities above - so there's no excuse not to have a blast on these volcanic islands!
Book your holiday to Azores with LastMinute.com
Hiking in Crete
Greece's olive groves and sunny slopes make for a calming, yet challenging hiking experience. Try the Achlada Mourtzanakis (opens in new tab) for a simple eco-residence that's close to all the best spots: a beach that's perfect for swimming and snorkeling, the historical village of Achlada, hilly trails, and the 4,000-year-old Minoan Palace of Knossos. The hotel also offers bikes for hire, horse-riding activities, cave-exploring and canyonying.
Book your holiday to Crete with LastMinute.com
Surfing in Portugal
Thanks to the miles of barely touched beaches and rugged waves, Portugal makes for one of the most affordable surfing destinations. Family-friendly hostels and surf camps are gaining popularity, as are yoga retreats, so there's a perfect mix of peace and action under the sun. The Karma Surf Retreat (opens in new tab) is just outside of Lisbon in Cascais, and offers childcare as well.
Book your holiday to Portugal with LastMinute.com
Rock-climbing in Spain
Your local indoor climbing centre will never measure up to the limestone sea-facing cliffs and mountains of Costa Blanca! Hosting Alicante and the mildest winter climate in the whole of Europe, the coast has white beaches, blue water and a rich multicultural history. Rock and Sun (opens in new tab) create climbing-themed family adventure holidays depending on level and age, so the whole family can take part. With exclusive routes that are practically untouched by other climbers, they also offer self-catering accommodation and discounts for non-climbing guests and kids under 7.
Book your holiday to Spain with LastMinute.com
Cycling in Austria
Natural waterfalls and magnificent mountains are key features of Austria's prime cycling countryside in the Tyrolean valleys. The range of terrain allows a calming cycling experience one moment, and quick-paced hilly dashes the next. Wolfsklamm has an impressive gorge that you won't want to miss, and the lakes of Krummsee and Reintalersee are perfect for swimming. Saddle Skedaddle (opens in new tab) offers self-guided family adventure holidays from Fügen, including accommodation and bike hire. There's more than cycling as well - the Zillertal Thermal Baths have thrilling water slides, and the Schwas planetarium is an educating and fun outing for kids.
Book your holiday to Austria with LastMinute.com
Long haul family adventure holidays
Animal-spotting in Belize
One of South America's best kept secrets, Belize is a small country with so much to offer. Bordered by Guatemala, Mexico and the Caribbean Sea, it has an amazing range of bird and animal species thanks to it being a tropical paradise. Explorers can snorkel to the nearby barrier reef alongside giant turtles and 400 species of fish, or venture into the jungle to spot jaguars, howler monkeys and hummingbirds. Belize is a favourite spot for eco-tourism, so if you're happy to reduce your carbon footprint, try the Lodge at Chaa Creek (opens in new tab) - the pioneer of ecotourism - with their onsite butterfly farm and medicinal plant trail.
Book your holiday to Belize with LastMinute.com
Exploring in Thailand
Thailand (opens in new tab) has been one of the most popular travel destinations in South East Asia lately, but there's so much more to do there than lie on the beach. Southern Thailand hosts ancient jungles that are accessible via canoe, coral reefs in blue waters that are perfect for snorkelling, and historical temples far away from the busy city of Bangkok. You can also pay a visit to the hill tribe villages in the northern highlands to experience their way of life, or take a cycling tour throughout the rich landscape. There's so much to do, you'll be spoilt for choice!
Book your holiday to Thailand with LastMinute.com
Trusted, informative, and empathetic – GoodTo is the ultimate online destination for mums. Established in 2007, our 15-year-strong archive of content includes more than 18,000 articles, 1,500 how-to videos, and 7,000 recipes.