We earn a commission for products purchased through some links in this article.
If you've been driven crazy by the dulcet tones of 'Let It Go' and lost count of the number of pretty blonde plaits you've braided, it's time to breathe a sigh of relief. There's a new Disney film on the block, and chances are your kids will love it just as much as they love Anna, Elsa and Olaf the snowman combined.
From the makers of Frozen and Wreck-It Ralph comes Big Hero 6, an action-packed adventure for all ages that will have them captured from the moment the credits roll.
Here are 6 reasons why we think it beats the tale of that sassy snow queen Elsa hands down…
1. The main characters are awesome…
Hiro is super smart (as in smart enough to make robots), and then there's sassy, athletic GoGo, perfectionist Wasabi, optimist Honey Lemon, and hilarious Fred. If you want your kids to be clever, feisty, funny and kind, there's a whole host of new role models here.
Better than Frozen because: There's strong female and male characters, from a whole host of different backgrounds, with loads of different skills – and we'd be proud if our kids looked up to any of them!
2. …but not as awesome as Baymax, who you WILL fall in love with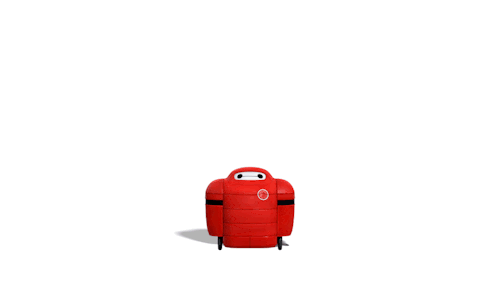 Baymax is a healthcare robot who is programmed to care (aww!) but initially, he doesn't know how to do much else. Throughout the course of the film, you'll see him learning a bunch of essential life skills, like fistbumping…
…and ultimately become the hero he was built to be. Fun fact: his movements and posing were modelled on a study of baby penguins – as if he wasn't adorable enough!
Better than Frozen because: Olaf is hilarious, but once you've heard him harping on about summer for what feels like 80% of your adult life, his wisecracking can wear thin. Baymax is a gentler, sweeter soul, making him much easier to listen to on repeat for 18 hours of the day.
3. There's lots of lessons about the importance of teamwork and friendship…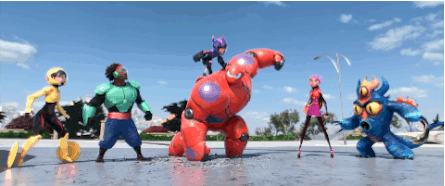 This gang sticks by each other through mysteries, evil plots and the toughest tests of character – they're hard workers that are always ready to help those in need.
Better than Frozen because:
Everyone gets to use their powers for good, rather than for building inpenetrable ice fortresses (we're looking at you, Elsa).
4. But plenty of laughs along the way too!
If you're anything like us, you'll definitely relate to Aunt Cass, Hiro's well-meaning but easily duped auntie (particularly the fact that in moments of stress, she automatically turns to donuts…)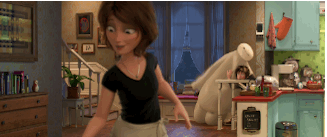 Better than Frozen because: The comedy doesn't revolve around songs that we have to play on repeat in our houses and cars 24/7. We've heard enough of Anna and Hans "finishing each other's…sandwiches(!)" to last us a lifetime.
5. If you get there early, there's an extra movie before the start…
It's called Feast, and it's the adorable tale of one man and his adorably but exceptionally greedy dog, Winston. Make sure you've got your popcorn and pick and mix well in advance so you don't miss out.
Better than Frozen because: It's an extra movie on top of a movie – who doesn't love a bonus feature?
6. …and if you stay til the end of the credits, you'll see a very special cameo from comic book legend, Marvel's Stan Lee.
Big Hero 6 is based on a Marvel comic of the same name, so it's an extremely fitting tribute!
Better than Frozen because: Whilst Frozen does boast an all-star cast (Idina Menzel and Kristen Bell are HUGE right now), it's still not quite the same as comic book royalty!
And, if all of that isn't enough for your brood to stop screeching 'Love Is An Open Door', get them to spot the Frozen Easter eggs in the movie!
http://www.youtube.com/watch?v=hfgwx9WP6xM
There's a Prince Hans, an Olaf and a boat from Arendale in there somewhere, but they'll need to look really closely!
Big Hero 6 will be in cinemas on 30th January 2015.
What do you think? Can anything top the mighty Frozen in your house? Tell us below