We earn a commission for products purchased through some links in this article.
A little girl who wrote to the Queen inviting her to her birthday party has received a response, written on behalf of Her Royal Highness no less! 
Melissa Poll, who's six from Beswick in Manchester, wrote to the Queen to congratulate her on becoming the longest reigning monarch in the UK, but expressed her dissapointment at not being able to visit Buckingham Palace on a recent trip to London due to a tube strike.
She then went on to invite the monarch to her 7th birthday party on 27 September, and lo and behold she got a reply!
Melissa was thrilled to receive a reply, even though the Queen was unable to attend her party.
Melissa sent the letter to Buckingham Palace and within just a few days received a response.
The letter, which came from the Queen's lady-in-waiting on behalf of Her Majesty, expressed the Queen's sadness that Melissa had missed out on visiting the palace, and even included an apology that she wouldn't be able to attend her birthday party later this month. The letter read: 
'The Queen wishes me to write and thank you for your letter in which you tell Her Majesty about your disappointment at not being able to tour the State Rooms at Buckingham Palace.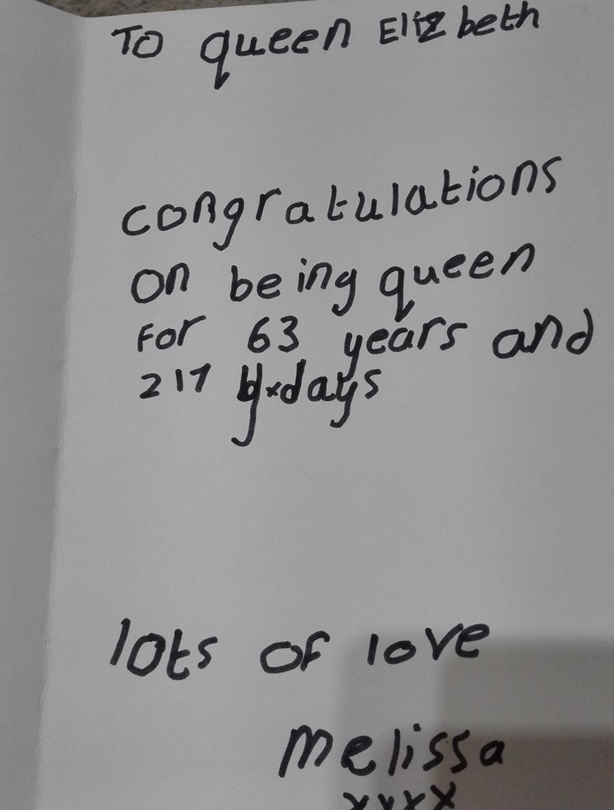 The card in which Melissa congratulated the Queen on becoming the longest reigning monarch in the UK.
'Her Majesty was sorry to hear that you and your grandmother tried twice to see inside the palace and that, for various reasons, you were unlucky.
'Although unable to come to your birthday party, the Queen greatly appreciated your kind thought for her, and I hope you have a lovely time with your family and friends on September 27.
Melissa asked the Queen if she'd like to come to her 7th birthday party.
'I am to thank you too for your kind thought in writing about the forthcoming splendid milestone in Her Majesty's reign.'
Melissa's grandmother, Denise, told us: 
'Unfortunately there was a tube strike on the day we took the girls to London and we couldn't get into Buckingham Palace, so we decided on an open-top bus tour instead.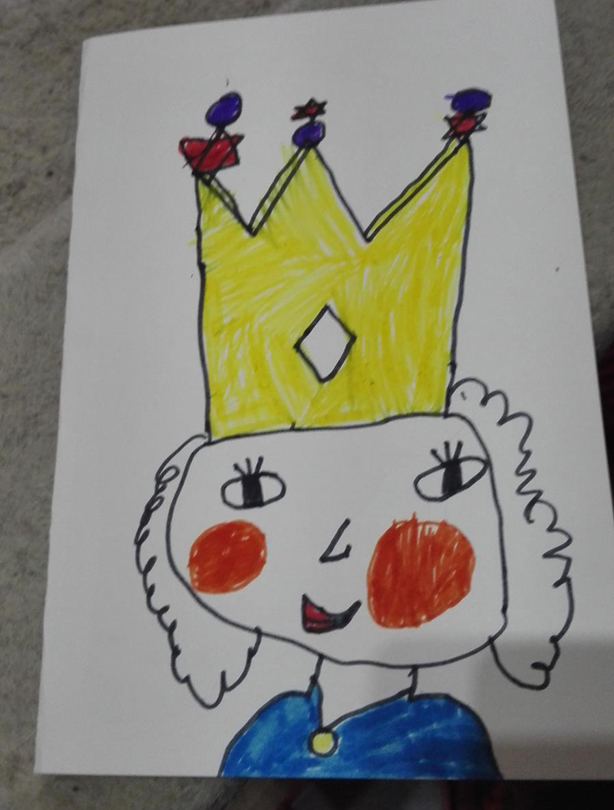 The front of the card which Melissa sent to Buckingham Palace.
'When we passed the palace we tried to peer into the royal gardens, which is where I told Melissa the Queen held her garden parties – I suspect she was hoping for a return invite if she asked the Queen to her birthday party.
'Now I have to stop Mel trying to turn the Lady-in-Waiting into her penpal!
'I'm so proud of her – she really loves writing.'
How cute is this story? Has anyone you know ever received a letter from the Queen? We'd love to hear about it – let us know in a comment below.